9 dengue and 1 malaria deaths in Delhi in 2022: MCD data
Published on Jan 06, 2023 11:41 AM IST
New Delhi The Municipal Corporation of Delhi (MCD) on Thursday released its cumulative annual vector borne disease report for 2022 and stated that the Capital recorded 10 mosquito-related deaths last year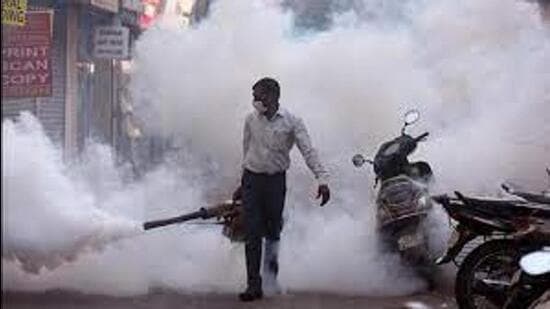 New Delhi The Municipal Corporation of Delhi (MCD) on Thursday released its cumulative annual vector borne disease report for 2022 and stated that the Capital recorded 10 mosquito-related deaths last year. This figure was an upward revision from the seven fatalities reported earlier, civic body officials said.
Of the 10 deaths, nine patients suffered from dengue while the tenth died of malaria, the report says. In all, Delhi logged 4,469 dengue cases, 263 malaria cases and 48 Chikungunya cases in 2022.
A senior official from MCD's public health department, on condition of anonymity, said the deaths added to the revised tally occurred in May, October and November.
"In case of two dengue deaths, an 11-year-old boy from East Krishna Nagar in Shahdara South zone died at Sir Ganga Ram hospital on October 28 and a 16-year-old boy from Subhash Mohalla in North Ghonda died at LNJP hospital on November 14. The third death added to the tally was of a malaria patient from Vinoba Enclave Extension in CRPF colony under the Najafgarh zone, who died at Venkateshwara hospital on May 13," the official said.
The nine dengue-related deaths in 2022 was better than the 23 deaths recorded in 2021. The city had recorded one dengue-related death in 2020, two in 2019, four in 2018 and 10 in 2017. Malaria-related deaths have been rarer in Delhi. According to the available data, only one malaria-related death occurred between the years 2017 and 2021 -- when a person died of the disease in 2020.
Delhi had seen 9,613 dengue cases in 2021, a sharp rise from the 1,072 cases in 2020. In the years 2019, 2018 and 2017, the city logged 2,036, 2,798 and 4,726 dengue cases, respectively.
Not all dengue or malaria patients who die in Delhi's healthcare facilities are counted in the city's official death count. A senior municipal official associated with the process said all such cases are taken up by a review committee.
"Hospitals send the case details of these deaths cases. The committee analyses cases of suspected dengue or malaria deaths of Delhi residents as well as those who arrive in Delhi from neighbouring states seeking treatment. Once a dengue- or malaria-related death is reported by a hospital, the committee audits all case documents to ascertain whether it was the vector-borne infection that caused the death, and also to find out if the origin of the disease was Delhi," the official said.
"The committee also looks at other aspects such as co-morbidities before attributing the deaths to vector-borne diseases. For example, if a patient is severely ill due to other conditions and the main cause of death is not dengue, then the death is not attributed to the mosquito-borne disease," the official said.