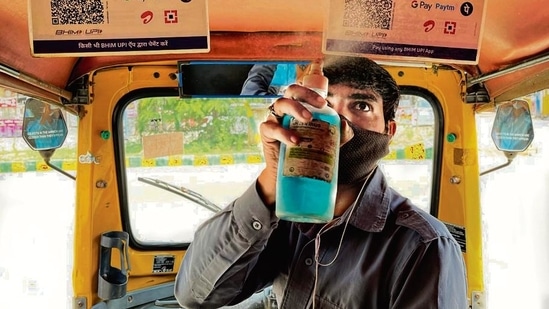 Delhiwale: A conscientious citizen
An autorickshaw driver plans to quit the city as he struggles to make ends meet.
By Mayank Austen Soofi
, New Delhi
PUBLISHED ON JUN 16, 2021 02:19 AM IST
His professionalism doesn't suggest that his stint with the city is ending. As the customer prepares to step inside the excellently maintained auto rickshaw, Som Pal politely asks him to stop. He picks up a large bottle filled with blue liquid, turns around on his driver's seat, and generously sprays the liquid on the passenger's seat in the back.
It's the sanitiser.
He also sprays the metal railings that people tend to touch while entering the rickshaw. Mr Pal does it all with great concentration.
Such attention to safety is rare among auto and cab drivers, even though they are expected to follow these pandemic-era protocols. This becomes more wonderful when Mr Pal says that he buys a 5 litre can of the sanitiser every fortnight, costing a steep ₹700.
Why do it, when many other drivers are relaxed about it, and the income has anyway plummeted down since the pandemic began?
Mr Pal searches for an answer. "People then trust me, and I feel safer because I don't know if the previous passenger was infected with corona or not."
This afternoon, Mr Pal is waiting for business outside a closed educational institute in Vasundhara in Ghaziabad. The place would be teeming with auto rickshaws at all times, but right now his is the only one. "People are scared of the virus."
The area is crammed with multi-storey housing complexes. One large piece of open ground, that was empty all these years and in which kids would play cricket, has been barricaded—yet another housing complex is coming up. Mr Pal, who has been driving the rickshaw in the area for 8 years, reports that until two years ago auto rickshaw drivers would never have to wait for customers. "My regulars would have my number in their mobile phones and would call me before leaving their apartment." But the cab apps are reducing the demand for autos, he says. "Their rates are not very expensive, and they are cars... we are just autos."
In his 30s, Mr Pal's wife and kids live with his elderly parents in Fatehpur, UP. Both father and mother work as farmers—the family owns two beeghas of agricultural land. Mr Pal is so disillusioned with the auto rickshaw's earnings these days that he has made a significant decision.
"I've told my parents to rest at home and I'll do the kheti (farming). I'm leaving soon."
And the city will lose a conscientious citizen.
Topics
Close