In Delhi murder, Aaftab's polygraph test continues; his father quizzed
Updated on Nov 25, 2022 07:06 AM IST
In November 2020, Walkar had filed a complaint at the Tullinj police station in Palghar, Maharashtra, stating that Poonawala had threatened to kill her and cut up her body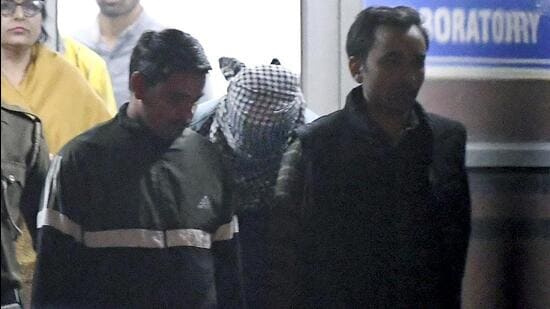 Delhi Police officers on Thursday recorded Aaftab Poonawala's father's statement, investigators aware of the matter said, even as forensic experts said the suspect's second session of a polygraph test was cut short after he fell ill for a second straight day.
Poonawala is accused of murdering his girlfriend Shraddha Walkar this May, chopping up her body and dumping the body parts in forested areas in and around the Capital.
According to a police officer probing the case, Poonawala's father Amin Poonawala was questioned in Delhi on Wednesday in connection with the case, his son's behaviour, and his relationship with Walkar. "According to the father, Poonawala used to live independently and was aloof. He wouldn't keep in touch a lot and talk a lot with the family," the officer said.
In November 2020, Walkar had filed a complaint at the Tullinj police station in Palghar, Maharashtra, stating that Poonawala had threatened to kill her and cut up her body, according to a copy of the complaint seen by HT.
Maharashtra Police officials said no first information report was filed because Walkar backed off after Poonawala's parents spoke to her. A social worker assigned to the case corroborated this version of events.
On Thursday, Delhi Police officers took Poonawala, 28, to the FSL offices in Rohini at around 11.50am to conduct the polygraph test. The procedure for the test had been initiated on Tuesday, and as a part of an interactive session, also called a rapport-building exercise, he was asked basic questions about himself.
Following the polygraph test, doctors are set to conduct a narco-analysis test on Poonawala at a city hospital.
FSL assistant director Sanjeev Gupta said, "The test went on for hours. He developed a fever during the session and it could not be completed. He may be called again on Friday if he feels all right."
On Wednesday too, the session could not be conducted as the 28-year-old was down with a fever and cold, officials aware of the matter said.
FSL director Deepa Verma said if the subject falls sick, they start sweating and their blood pressure is impacted. "The parameters on which the test is conducted requires the subject to be healthy for an accurate result," she said.
The narco-analysis and polygraph tests are inadmissible in court. However, through these tests, police hope to verify if Poonawala has been honest about his version of the murder, and the test results are crucial for investigators as they attempt to sift through conflicting statements given by the suspect.
Police also hope to learn at which locations Poonawala dumped Walkar's body parts and the weapon he used to dismember her body.
The gruesome crime was unearthed last week after Poonawala ostensibly told the police that he murdered Walkar, 27, at their Chhattarpur flat six months ago, chopped her body into at least 35 pieces for over two days, stored them in a refrigerator for about three months, and dumped the body parts in south Delhi, Gurugram and Faridabad. Police said the couple fought over finances on May 18 — three days after they moved into the flat in Chhattarpur.
But other than his confession and circumstantial clues, police have not made any major piece of evidence public. Investigators recovered bone fragments from forests in Chhattarpur , Gurugram and Surajkund, found some bloodstains in the flat, and recovered a saw, but forensic tests are yet to conclusively prove that these are linked to the case. Police say Poonawala confessed to the crime but their contention is not admissible in court unless backed by hard proof.
On Thursday, some media outlets reported that police have recovered five knives and a saw from Poonawala's flat, which could have been used to dismember Walkar's body. However, investigating officials said that those items had been recovered on November 14 -- two days after Poonawala was arrested.
"We had recovered many items from his house. Until we get the FSL report, it cannot be established if the recovered items were used in the crime," a senior police officer said on condition of anonymity.
Police are also yet to recover Walkar's mobile phone. The officer quoted above said Poonawala has claimed he threw the phone near Mumbai.
Personalise your news feed. Follow trending topics