In Delhi for treatment, Afghans face rising bills and uncertainty
Updated on Aug 20, 2021 02:37 AM IST
Shukriya is among the hundreds of people who have arrived in India from Afghanistan for treatments over the last few years, a period which has also seen a steady growth of medical tourists attracted by the relatively lower cost of treatment here.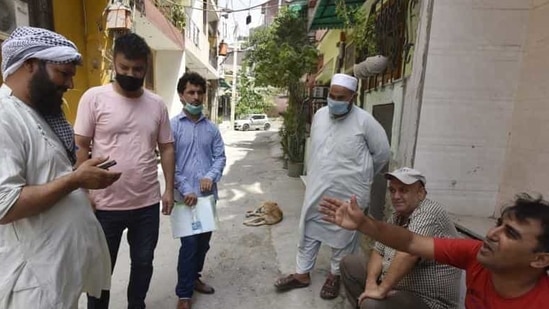 , Hindustan Times, New Delhi
Sadia Akhtar
Fifty-three-year-old Shukriya arrived in Delhi with her son from Afghanistan's Baghlan province on a medical visa in March to treat her stomach and back cancer. Five months later, her family -- her husband Khalil (63) arrived nearly a month ago -- is staring at an uncertain future as they have exhausted most of their money on the ongoing treatment and the crisis in their homeland, which has been taken over by the Taliban, has dashed their hopes of a better future.
"Everything has collapsed back home. We have exhausted whatever money we had and our family members back home cannot send money due to the turmoil that has engulfed the country. My wife's treatment had to be called off since we can no longer afford the expensive treatment. She is surviving on medicines," said Khalil, pointing towards a frail Shukriya, who sat on a bed with great difficulty in a poorly lit two-room house in Lajpat Nagar's Kasturba Niketan they have rented for ₹18,000 per month.
Shukriya is among the hundreds of people who have arrived in India from Afghanistan for treatments over the last few years, a period which has also seen a steady growth of medical tourists attracted by the relatively lower cost of treatment here.
Since March, Shukriya has been shuttling between private hospitals in the city. Drained by the exacting nature of the treatment and mounting financial pressures, the mother-son duo asked Khalil to come over to India in the hopes that their challenges would ease with financial and moral support. But that was not to be.
"We have no money left for treatment or the rent. There are no flights. We are stuck and can only wait and watch," said Khalil, who is still processing the swift victory of the Taliban.
"Everything was okay till a month ago. I had never imagined that the Taliban would take over so soon. We don't know what the future holds for my wife and family and if we will be able to continue with the treatment," he said, adding that given a choice, he would prefer to stay in India than return.
The ongoing political churning in Afghanistan has thrown the fates of many such medical tourists into uncertainty, with banks in the strife-torn country running out of money and people stepping out sparingly there.
Among them is Ataullah (58), a native of Afghanistan's Ghazni province, who came to Delhi July 29 for his wife's heart surgery at a private hospital. Amid the crisis "People back home say that there is no money in the banks. I have already spent USD7,000 on the surgery and don't know how we will be able to sustain ourselves in the country. Besides the treatment cost, rent needs to be paid here. Translators also charge a lot. We are left without resources," said Ataullah, who too stays in a rented accommodation in Lajpat Nagar II.
While many are sceptical about returning to their country, some say they are stuck in Delhi due to the absence of flights. Fear of visa expiry -- medical visas are usually given for a period of 60 days and can be stretched for a maximum of six months -- too weighs on their minds.
Mashuqullah Niazai (45), who came to Delhi with his wife for infertility treatment in March, was looking forward to return home but his flight on August 16 was cancelled. "There is a lot of uncertainty since there are no flights. I want to go back but since there is no clarity on flight status, I will have to get the visa extended," said Niazai.
Ahmed Zia Ghani, head of the Afghan solidarity committee, a representative body of the community in India, said that the return of the Taliban had compounded troubles for Afghans everywhere. "Majority of the Afghans who have come to India in the recent months are on medical visas. Those who came here for long-term treatment have run out of money or are on the verge of exhausting their savings. They are unable to receive support since the central banking system back home has collapsed," he said.
According to Ghani, there are around 22,000 Afghans in India, with over 90% of them located in Delhi.
"While people are suffering back home, Afghans in India are also in need of food, shelter, and jobs," he added.
Meanwhile, private hospitals that receive patients from Afghanistan said that it was too early to say how the developments in Afghanistan will impact the medical tourism in the country. "Over the last decade, Indian hospitals have witnessed a significant inflow of patients from Afghanistan and adjoining countries, who sought the superlative medical treatment and care available in India. We hope that the recent developments in Afghanistan do not impact those in need of treatment and patients can continue to travel to receive the best medical services in India," said Anil Vinayak, Group COO, Fortis Healthcare Ltd.
A spokesperson from Indraprastha Apollo hospital said there had been an overall dip in the number of international patients owing to the pandemic, including from Afghanistan, over the past year. "It will be difficult to ascertain any change in the numbers owing to the current crisis in Afghanistan," the hospital said.
In a stunning rout, the Taliban seized nearly all of Afghanistan in just over a week, despite the billions of dollars spent by the US and NATO over nearly two decades to build up Afghan security forces. Just days earlier, an American military assessment had estimated it would be a month before the capital would come under insurgent pressure.
Topics
Personalise your news feed. Follow trending topics