Indian-origin Australian fugitive with AU$1million bounty arrested in Delhi
Published on Nov 25, 2022 10:57 PM IST
Singh had grown a long beard and wore a turban to evade law enforcement agencies, said a counter intellgence officer. He said in his interrogation that he killed Toyah Cordingley in a fit of rage while she was walking her dog at a beach in Far North Queensland, the officer added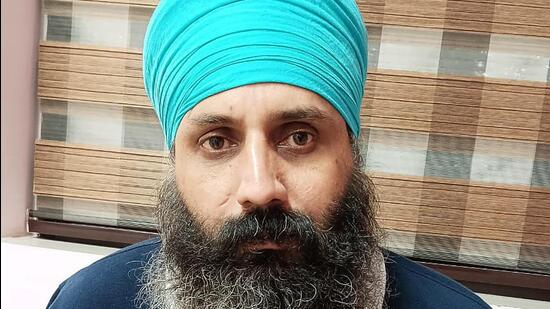 New Delhi: The Delhi Police said on Friday they had arrested an Australian citizen of Indian-origin, Rajwinder Singh, who is suspected to have killed an Australian woman, Toyah Cordingley, in Queensland in 2018. The Australian police had announced a reward of one million Australian dollars – more than ₹5 crore – for his capture.
Singh, who is originally from Buttar Kalan in Punjab, was arrested around 6am from near GT Karnal Road by the counter intelligence (CI) unit of Delhi Police's special cell, based on inputs shared by the central bureau of investigation (CBI), Interpol and their Australian counterparts, police said.
Later in the day, Singh was produced before a Delhi court that sent him to Tihar jail till November 30. CBI, which is the nodal agency for Interpol in India, will carry out the extradition procedures of Singh to Australia by coordinating with Interpol and Australian Police, officers aware of the development said.
"Singh had grown a long beard and wore a turban to evade law enforcement agencies. At the time of the murder in 2018, he was a clean-shaved man. He had been staying in different gurdwaras across the city, did small jobs and survived on food served at religious institutions. Singh was not using a mobile phone and never contacted his wife and children in Australia or his parents and other family members in Punjab," said a counter intelligence officer, who was part of the team that arrested Singh.
During his brief interrogation, the officer said, Singh told the police that he killed Toyah Cordingley, then 24, in "a fit of rage" while she was walking her dog at a beach in Far North Queensland. At the time of the crime, Singh was working as a nurse at Innisfail, south of Cairns.
"Singh told us that he fled Cairns the same day and reached Sydney via air. He boarded a flight on October 22, 2018 and reached India on October 23. He left behind his wife and three children in Australia. He also went to Amritsar before coming to Delhi," the officer added.
According to Delhi Police's statement, the Australian High Commission had declared a reward of one million Australian dollars for the arrest of Singh, who had been on the run since the murder of Cordingley on October 21, 2018 in Queensland, Australia.
"Interpol had issued a red corner notice (RCN), Control No. A-2639/3-2021 regarding the said accused; the CBI/Interpol, New Delhi had got issued a non-bailable warrant, under The Extradition Act, against his name from the Patiala House Court on 21/11/2022," the Delhi's Police's statement read.
On November 25 at 6 am, in an intelligence-based operation, the suspect was apprehended from near GT Karnal Road and arrested by Special Cell u/s 41(1) CrPC, the police said in the statement.
"The @QldGov has announced a reward of 1 million AUD for information leading to the location & arrest of Mr Rajwinder Singh, wanted in relation to the murder of Ms Toyah Cordingley in 2018. People in India with any information about the whereabouts of Rajwinder Singh can call the Australian Federal Police at the Australian High Commission on+91 11 41220972," the Australian High Commission in New Delhi had said in two tweets on November 3.
A senior special cell officer said the counter intelligence team had started the operation to locate and arrest Singh after the Australian High Commission's tweets related to the case, suggesting that the suspect may be hiding somewhere in India. Working on intelligence inputs received from Interpol via CBI, the team gathered further information that suggested Singh may be hiding in Delhi.
"We found that the suspect had telephonically contacted some friends and distant relatives. However, he had used different telephone numbers, which meant that he may have borrowed cellphones or used public telephone booths. We worked on the leads and also activated our human intelligence network. After nearly 20 days, we located Singh at Nanak Piao near GT Karnal Road," said the counter intelligence officer.