Said-ul-Ajaib village carves its niche as unlikely start-up hub in south Delhi
Mar 14, 2022 12:38 PM IST
Over 100 early-stage startups have made the south Delhi area their home, operating out of its multi-storey buildings and several co-working spaces.
As you enter Said-ul-Ajaib, an urban village near Saket in south Delhi, what strikes you are the stickers on the walls of the multi-storey buildings in every street offering 'three BHK office space'. "There is a huge demand for affordable office space in this village, driven by startups, " says Himanshu Kumar, a local property dealer in the village.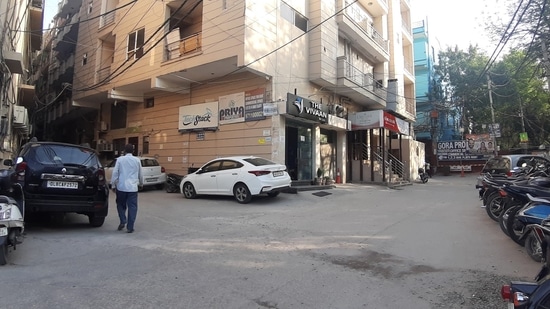 Indeed, Said-ul-Ajaib has emerged as a major start-up hub, with over 100 early-stage startups ----- mostly IT, AI, fintech, edtech, BPO and KPO companies —operating out of its multi-storey buildings and chick co-working spaces, which have come up in the past few years.
"Said-ul-Ajaib offers startups a perfect eco-system to operate," says Rohit Raina, who runs Startup Club India, a consultancy that offers registration and compliance-related services to startups in the area. In fact, the 'eco-system' is the word one hears from everyone in the Yadav- dominated village, whose name many find it difficult to pronounce or spell. Located on the Mehrauli- Badarpur Road, locals say the village draws its name from a Sufi saint 'Saiyyd', who was said to have the power to perform miracles (Ajaib means mysterious powers).
Rahul Krishna, a former recruitment professional, who started Empowerers Coworking City, in September last year in Said-ul-Ajaib, says the main components of the 'startup ecosystem' includes its proximity to the Saket Metro station, ample parking, affordable rents at about ₹40 per square ft, and the growing number of co-working spaces, like his, that allow 'cross-cultural and cross-functional collaborations.'
"Besides, the terrace of the buildings here, which offer a lovely view of the greenery in Mehrauli, is a big draw. These terraces are perfect for taking a break during office hours ," says Krishna sitting inside the common conference room at his co-working facility, a tastefully done independent floor in a multi-storey building, with rows of cabins, big and small, where youngsters are hunched over their laptops in complete silence.
One of them is Rohit Kapur (32), creative director of V Flux Studio--an architectural visualization startup he co-founded in December 2020. He says he chose Said-ul Ajaib for his office after having looked at many options all across Delhi.
"I did not want to spend an hour on commute and was looking for a place where I could both live and work. My apartment is a few metres away from here. Besides, this urban village has several top-notch cafes where I often take my clients," says Kapur, who pays ₹24,000 for the four-seat cabin at the co-working space and ₹19,000 for his 2- BHK apartment.
In fact, the village is home to many employees working in its startups. The multi-storey buildings on the front side of the village have offices, those in the back are residential buildings having floors with multiple apartments.
"We even have serviced apartments here, catering to the employees of the companies here," says Himanshu Kumar, a property dealer, who recently set up a furniture rental business. " Many of the start-ups do not want to invest in furniture and like to take it on rent for their office. There are also a number of well-furnished plug-and-play offices here. "
One can see luxury cars – Jaguar, Mercedes, BMW, Audi-- outside many houses. " These belong to the villagers, who own several buildings here, earning as much as ₹20 lakh a month in rent," says a local, not wishing to be named.
Sumit Sejwal, another local who runs a café in the village, says that the first few companies came a decade ago but a majority of the firms have sprung up in the past four years. "Today, there are at least three to four companies in almost every building here, " says Sejwal.
Amit Kumar (25), who runs The Viral Trees, a digital marketing start-up, says apart from being a ' vibrant co-living and co-working community', the village also has many institutes offering courses in digital marketing, big data analytics, graphic and web designing, data science among others. " A lot of startups hires interns and full-time employees from these institutes," says Kumar.
Encouraged by the response, founders of the co-working spaces here – all of them from outside the village—now want to set up co-working and co-living spaces. " This concept is getting popular abroad and can work here in Said-ul-Ajaib too. I am thinking of creating a space here where the upper floor of a multi-storey building can be converted into residences with hotel-like facilities while the lower floors can be a co-working space," says Nitin Khatri, who runs Team CoWork, a co-working space.
Several co-working spaces here also serve as virtual offices for hundreds of companies. For example, Krastay, a co-working space with over 200 seats, spread across four floors, serves as a virtual office to over 100 companies.
"Most of these companies rent just one seat. We offer them a physical address, handle their phone calls and postal mail, among other facilities. A lot of them prefer a virtual office either because their employees work remotely or because they need an Additional Pace of Business in GST registration, " says Laviral Kalra, who started Krastay in 2018.
Interestingly, many companies and co-working spaces have a 'Khasra number' in their address—a number assigned to a piece of land in rural areas in land records of the revenue department, but the English-sounding 'Westend Marg', a wide road that runs along with the village from Saket Metro station, makes the address fashionable, say founders of startups and co-working spaces operating from the village.
Locals, though unable to throw light on the origin of the name of the road, say 'Westend Marg, until the 1990s, was just a slushy narrow track along the agricultural fields, where one could see tractors, bullock carts and cows. " But today it is the USP of our village. It ensures that companies have a nice-sounding address, ample parking space, and their employees and clients can easily reach office without being caught in traffic jams," says Rajesh Yadav, a local.
Nehemiah Abrahim , who launched Empower Space--a venue for organising corporate and social events in Said-ul-Ajaib this January, says he was attracted by the village's startup culture and the wide Westend Marg, which features in his address too. " This place has so many companies, the idea was to create a space for them for holding corporate events, including training and entertainment programmes. We have already held over 10 corporate events here. Said-ul-Ajaib is a perfect place for an event venue business like us. "
Continue reading with HT Premium Subscription
Daily E Paper I Premium Articles I Brunch E Magazine I Daily Infographics