Haryana: 3 booked for kidnapping, raping two minor sisters
Updated on Jan 24, 2018 03:48 PM IST
Two sisters, aged 17 and 16 years, were allegedly kidnapped in a car from near their home, raped and droppped off a few hours later.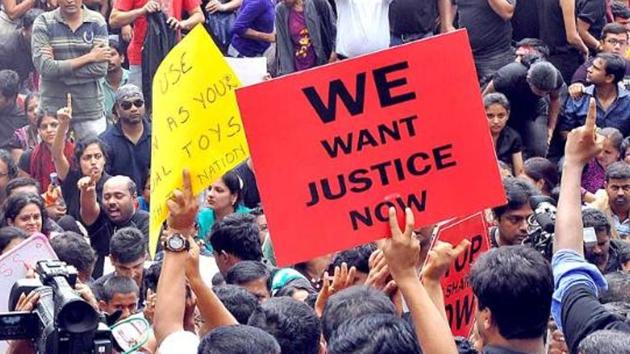 Police in Panipat district of Haryana booked three men for allegedly kidnapping and raping two minor sisters on Monday, officials said on Wednesday, the latest in the string of incidents of sexual assault against women and girls in the northern state that has triggered protests against chief minister Manohar Lal Khattar.
"We have received a complaint in this regard. The accused, who are in their early twenties have been booked under Sections 365 and 376-D of the Indian Penal Code (IPC) and Section 4 of the Prevention of Children from Sexual Offences (POCSO) Act," Samalkha deputy superintendent of police (DSP) Naresh Kumar said.
He said the girls, aged 16 and 17 years, have been sent for medical examination and that the accused men will be produced in the court seeking their further interrogation.
The girls and their families approached the police on Tuesday alleging that Sonu Kumar, Ravi Kumar and Sonu kidnapped them in a car from near their house and raped them. The men then dropped them a few hours later, said the girls.
Kumar said an investigation has been ordered and the reason behind the late report by the family will be found during the course of the probe.
Before Monday's incident, the northern state witnessed 10 rapes, mostly of minors, in the last 10 days. In some cases, the girls' private parts were mutilated, a reminder of the brutal gang rape and murder of a physiotherapy student in Delhi in December 2016 that led to a huge uproar across the country.
The recent report of the National Crime Records Bureau (NCRB) for 2016 shows Haryana recorded the highest rate of gangrape per one lakh population in the country for the third year in a row.
The data shows 191 gang rapes took place in the state last year, or one every two days, with a rate of 1.5% against the national average of 0.3%.
The state recorded 1,187 incidents of rape in 2016, which was 11% more than previous year's 1,070.