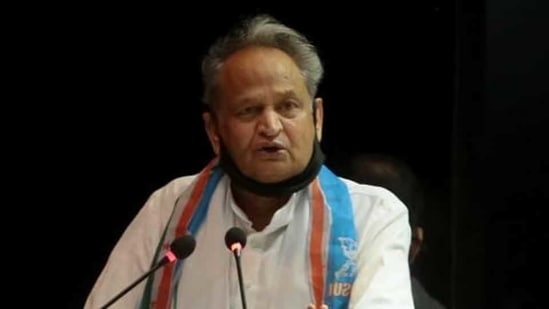 Rajasthan CM: 1st dose of vaccination stopped at health centers due to shortage
Rajasthan has also accused the Centre of providing incorrect figures on vaccine doses given to the state.
By Jaykishan Sharma | Edited by Abhinav Sahay
, Jaipur
PUBLISHED ON MAR 10, 2021 01:17 PM IST
Rajasthan chief minister (CM) Ashok Gehlot claimed that 'inadequate' supply of Covid vaccine by the Union health ministry led to suspension of first dose at primary and community health centers in the state since Tuesday.
CM appealed to the Union health minister Dr Harsh Vardhan to provide vaccine in sufficient quantities to the state at the earliest. "Rajasthan is the leading state in the country in immunisation. The lack of vaccine availability here will not only have an adverse effect on the pace of the vaccination campaign but will also weaken the enthusiasm of the citizens of the state and the Corona Warriors," he said.
He said that the Center's claim of having provided 37.61 lakh Covid vaccine doses to Rajasthan, including 24.28 lakh administered doses by Monday, was completely wrong. "Till March 8, Rajasthan had a stock of only 31 lakh 35 thoursand and 340 vaccines, of which, 2 lakh 15 thousand and 180 vaccine doses were made available to the army," Gehlot said.
Gehlot said that 29, 30, 160 vaccine doses have been made available according to the order of priority and till March 8, 23, 26, 975 vaccine doses have been administered and 1,62, 888 vaccine doses were wasted, which is less than the 10% limit allowed by the central government.
"More than two lakh people are being vaccinated every day in the state. In this way, on March 8, the vaccine was available only for two days of vaccination, so the state government demanded additional vaccines from the center. After which, the state received 85 thousand vaccines on March 9," Gehlot said.
Also Read: Illegal opium farming on Jaipur outskirts, 13 cases found in a year: Police
Gehlot said that the Central government officials should be told not to give "false" information about Rajasthan on Covid 19 vaccines.
He said that the 'delay' in sending vaccines and 'misinformation' on the drive in the state will hurt people's spirits in the state and disappoint the Corona Warriors.
Close