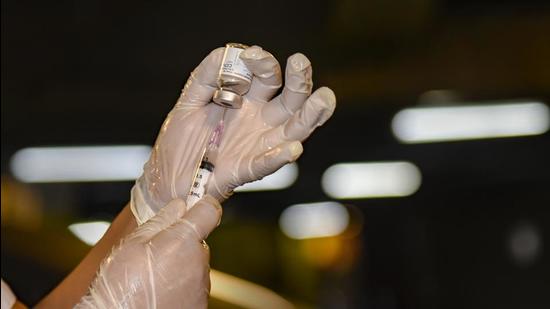 Rajasthan woman claims receiving two jabs of vaccine on same day, doctors deny
Chief medical health officer (CMHO) Dausa, Dr Manish Chodhary, repudiated claims of simultaneous double doses.
UPDATED ON MAY 29, 2021 04:50 PM IST
In a one of its kind case in Rajasthan, a 43-year-old woman in Dausa alleged she was jabbed with two doses of the Covid-19 vaccination simultaneously, HT has learnt.
"We had gone to the public health centre (PHC) at 9 am, got vaccinated at about 11 am. We returned home and I ventured out to attend to some work. Later in the evening, I found that my wife (Kiran) looked worried and had a slight fever. It was only in the evening that she revealed about being vaccinated with two doses in quick succession," Ram Charan Sharma, the woman's wife said, adding that he immediately contacted the vaccination centre.
Sharma went to a primary health centre near Nangal for a vaccination with his family, including his wife Kiran, on Friday where the medical staff allegedly vaccinated her wife twice.
"The staff at the centre denied that she was administrated two doses and said it was not possible as per the rules. I then consulted another doctor who prescribed some paracetamol medicine and advised her to get rest," he said, adding that his wife also complained of pain in the arm where she got the shots.
Chief medical health officer (CMHO) Dausa, Dr Manish Chodhary, repudiated claims of simultaneous double doses.
"The first attempt to vaccinate her was withdrawn when some blood began to pop put. It is called a prick. The nursing staff then located another spot on her arm and vaccinated her with the first dose. She (Kiran) presumed that she was vaccinated twice, which is not true at all," Chodhary said, adding that proper vaccination protocol was followed.
Dr Chodhary said that a team of doctors was also sent to Kiran's house in Khairwal village to check on her health.
"The doctors found her medical condition to be absolutely normal. No side-effect was reported either," he said.
When asked about the matter, district collector Peeyush Samariya concurred with the CMHO and said the woman was only given the first dose of the vaccine.
Dr Raman Sharma, a senior professor at the SMS medical college and the hospital said that usually there is no major side effect even if both doses were to be given in a single day.
"During the phase two of the vaccination trials, this possibility is also tested. And there is normally no side effect," he said.
Close