Akhilesh, Shivpal among others pay tribute to Mulayam on birth anniv in Saifai
Published on Nov 22, 2022 11:42 PM IST
The birth anniversary of Samajwadi Party (SP) founder Mulayam Singh Yadav (1939-2022), who died last month, was observed as "Dharti Putra Divas" in his ancestral village Saifai in Uttar Pradesh's Etawah district on Tuesday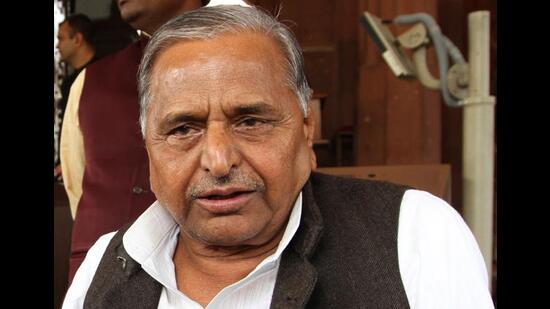 The birth anniversary of Samajwadi Party (SP) founder Mulayam Singh Yadav (1939-2022), who died last month, was observed as "Dharti Putra Divas" in his ancestral village Saifai in Uttar Pradesh's Etawah district on Tuesday.
The entire Yadav family was present at the simple ceremony organised in Saifai mahotsava pandal. An emotional SP president Akhilesh Yadav said: we have to fulfil the dreams of Netaji. We need your support."
On the occasion, none of the leaders mentioned Mainpuri by-election or made any appeal for votes. Before the ceremony began, the doctors of Saifai medical university organised a "havan" at the "Samadhi Sthal" of the late SP leader. Pragatisheel Samajwadi Party (Lohia) leader and Mulayam's younger sibling Shivpal Yadav attended the "havan" and performed rituals.
Akhilesh, who also visited his father's "Samadhi Sthal", paid floral tribute to the departed leader shared anecdotes about him. He said Netaji (MSY) always remembered Saifai and used to talk to people there. "He did many historic works in his lifetime. He was always for communal harmony and brotherhood. I learnt from him this kind of politics," he said.
The SP chief further said his father built such a big political party and led one of biggest public movements. "It is time to fulfil his unfulfilled dreams. We need your support," he said.
Speaking on the occasion, Shivpal Yadav urged people to follow the ideals of the SP founder if they wished to pay real tribute to him. "He worked for everyone rising above caste and religion. We have to work for the poor and farmers," he said.
Mulayam Singh's other brother Abhay Ram, his childhood friend Ram Sevak, former SP MP Dharmendra Yadav, party leader Kiranmoy Nanda, Pradeep Yadav, Ashok Yadav, Tej Pratap Yadav, Abhishek Yadav, Anshul Yadav, Aditya Yadav, Aryan Yadav, former U.P. assembly speaker Mata Prasad Pandey and Kartikeya Yadav also paid their tribute to the SP founder.
Personalise your news feed. Follow trending topics