Grave concern: Bodies burnt in open ground near houses
Published on Jan 18, 2023 12:17 AM IST
Residents of Jankipuram Sector J in Lucknow complain that people from the nearby Paharpur area frequently burn bodies here, polluting the environment. They have warned civic authorities of a protest, if a solution to the issue is not found in a week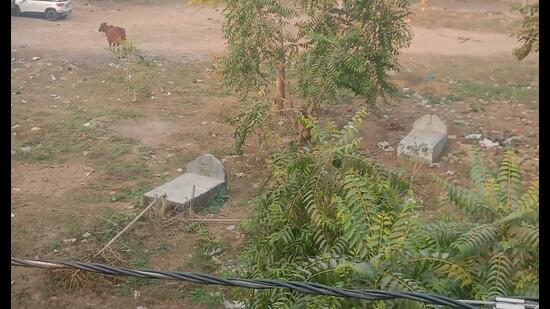 LUCKNOW A park in a residential area in Lucknow's Jankipuram Sector J, meant to be a children's playground, has been turned into a crematorium/graveyard. Residents of the colony complain that people from the nearby Paharpur area frequently burn bodies here, polluting the environment. They warned civic authorities of a protest, if a solution to the issue was not found in a week.
The residents also claimed that they were allotted houses under a scheme for the shelterless 20 years back and 10% extra money was taken to allot a park land. However, LDA authorities said the map of the area already had a demarcation of both the park and a crematorium. Those who use this site as a cremation ground claimed their ancestors were given a final adieu here. These people said they had been performing last rites here for years, and no one could stop them as the land was still listed as a crematorium in official documents.
At present, Lucknow has three cremation sites, including Gulala Ghat, Baikunth Dham (Bhainsa Kund) and the Alambagh Nahariya ground, which are maintained by the Lucknow Municipal Corporation (LMC).
In 2022, a resident Brijesh Gupta filed a public interest litigation (PIL), seeking relocation of the 'crematorium' in Jankipuram Sector J. The Lucknow bench of the Allahabad high court, in its order dated January 31, 2022, asked the Lucknow Development Authority (LDA) and other authorities to consider relocation of the 'cremation site' to an appropriate place with promptitude.
"It's sheer ignorance of LDA towards the poor. Even after the court's order to relocate the 'cremation site', no viable solution has been found," stated Vivek Sharma, vice-president, Jan Kalyan Mahasamiti.
Shrouds, bamboo caskets, urns, flowers and ashes keep lying in the park area for days after the funerals. This park is surrounded by approximately 50 houses inhabited by nearly 300 people, with houses at a nine-metre distance from the site.
The LDA's layout plan (2004), a copy of which HT has, clearly earmarked the approx 20,000 sq ft land into three parts with a cremation site in the middle and a park on two sides. However as of now, there is no such boundary dividing the land. In fact, the peripheral boundaries were found broken from all sides.
Though the plots in Jankipuram were allotted in 2002 while the blueprint was created in 2004, which is why people were unaware of the cremation site's existence beforehand.
FEAR AMONG PEOPLE, SOME CHOOSE TO VACATE
"Bodies are burnt here every now and then despite there being another ground barely 1-2 kms away near Mirzapur village. When we protest, they threaten us with dire consequences. Smoke from the pyre goes directly into our houses, making us sick," said Amrendra Kumar Dixit, a resident.
"Five cremations have taken place in the last 15 days. Four bodies were burnt and one buried," he said, adding that his five-year-old son was scared to step out of the house and his tutor fainted after seeing a live pyre.
Brijesh Gupta, a local, added: "My wife, along with children, has shifted to her mother's house. They are scared of living here. Despite having my own home, I'm thinking of renting a house in another area. Bodies were burnt here even during Covid times."
Another resident, Raju Gupta, too has shifted to a rented accommodation. "A few days ago, we rented our house to two girls. When they saw the cremation, they called the police but got no assistance. Hence they left. No one is willing to take the place on rent," he added.
"When bodies are set on fire in the park, neighbours stop cooking in their homes," said Kripa Shankar Tripathi, 70, another resident.
Experts opine that witnessing such activities (funerals/burials) regularly can affect both children and adults. "Witnessing cremations on a regular basis could be disturbing. This may result in severe mental health disorders," said Manini Srivastava, assistant professor, department of psychology, Lucknow University.
LDA secretary Pawan Gangawar said: "We cannot come to a decision until an amicable solution is found. Colony residents have their own problem and the people from Paharpur who perform last rites have their own view. I cannot assure when this problem will be resolved."