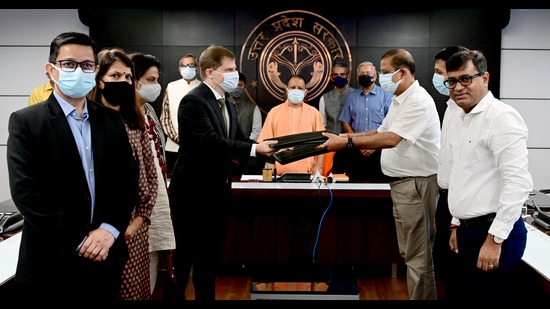 Jewar Airport - all land transfer formalities over, construction to start soon
With the establishment of the Jewar Airport, the industrial infrastructure in Uttar Pradesh will be augmented: Adityanath
PUBLISHED ON JUL 31, 2021 11:31 PM IST
Formalising the transfer of land for the construction of the Noida International Airport, popularly known as Jewar Airport, the state government signed a licence memorandum, on Saturday. Chief minister Yogi Adityanath was present on the occasion.
With the signing for 1,334 hectares of land, all formalities for the handover of the Jewar Airport land from the Noida International Airport Limited to the Yamuna International Airport Pvt Limited have been completed. This has cleared the decks for construction work to begin.
Yamuna International Airport Pvt Ltd, a 100% subsidiary of Zurich Airport International, will execute the project.
Christoph Schnellmann, CEO of the Yamuna International Airport Pvt, Vishak G Iyer, director, Civil Aviation, and Arun Veer Singh, CEO, Noida International Airport Limited signed the agreement.
Speaking on the occasion, the chief minister said: "Civil aviation is an area of great potential in terms of generating employment and ensuring economic prosperity. With the establishment of the Jewar Airport, the industrial infrastructure in Uttar Pradesh will be augmented and will create more investment opportunities, besides giving impetus to the tourism sector."
Adityanath added that the Jewar Airport would be connected with high speed rail while the Indira Gandhi Airport will be connected to it by road and metro rail.
The CM expressed happiness over the progress of work of Jewar Airport.
"Very soon Uttar Pradesh will have five international airports. Construction of the international airport in Kushinagar is almost complete and operations from this airport will start soon,'' he pointed out.
"We are pleased to confirm that over 1,300 hectares of land have been handed over to us today for the development of Noida International Airport. We have signed a site inventory memorandum, which gives us the right of way to the available part of the site to commence construction activities," said Christoph Schnellmann, in a statement issued on Saturday.
"We are committed to developing the aviation ecosystem in India, with an investment of ₹5,700cr for phase I of the airport development. The Noida International Airport will hold strategic importance and will be an economic engine for growth in Uttar Pradesh and India," Schnellmann added.
Prime Minister Narendra Modi will lay the foundation stone of the project soon.
Close