Uttar Pradesh, Bihar women increasingly donning khaki to protect nation
Nov 28, 2022 03:51 PM IST
While 30,041 women from these states applied for S-I recruitment in CAPFs in 2019, the number rose to 34,329 in 2022 recruitment, show Staff Selection Commission records
It's 8am and Punita Tiwari, 27, is all set to begin another day in khaki uniform in Prayagraj, after a mandatory PT drill at 5am. Hailing from a small village on the UP-Madhya Pradesh border, the constable is a member of the elite Rapid Action Force – a specialised wing of the Central Reserve Police Force (CRPF) having mandate and specialisation to deal with riot and difficult crowd control situations.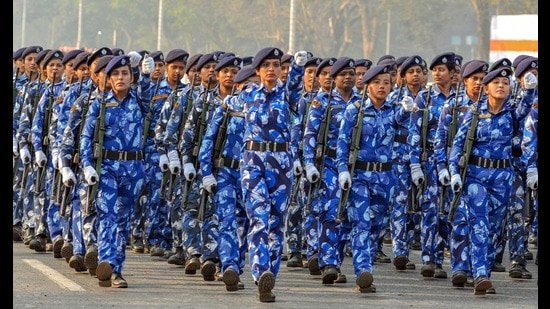 Long and erratic working hours, physical endurance and a tough mental approach are part and parcel of her job. The fact that she has a six-month-old baby at home and her husband works as a teacher in a far-off city are just some additional hurdles in the way of living her dream — donning the uniform and serving the nation. However, Punita's mother-in-law resides with her and takes care of the newborn when she is on duty.
Records of the Prayagraj-based Central Region Headquarters of Staff Selection Commission (SSC), which covers UP and Bihar, show that the count of girls from these states joining the Central Armed Police Forces (CAPFs) is increasing steadily, be it at sub-inspector or constable (general duty) level. CAPFs include Border Security Force, Central Industrial Security Force, Central Reserve Police Force, Indo Tibetan Border Police and Sashastra Seema Bal, among others.
"I had this dream right since my school days. After 1.5 years of preparations when I got through the selection, my school teacher father and housewife mother backed me fully. I completed my one-year training from Ajmer and joined service in March 2017. I have served in Lucknow, performed poll and Kumbh-2019 duties and now I have joined 101 RAF Battalion in Prayagraj. Four years in uniform have been an exhilarating experience," shared Punita with pride.
Her colleague, constable Archana Naravariya, 28, also hailing from a small village on UP-MP border and whose father works in a cooperative bank in MP, too has seen tough assignments in Naxal-hit Chhattisgarh and Jharkhand before joining 101 RAF Bn in Prayagraj during her four years in service.
Their in-charge, ASI Pramodini Poutaray, 46, is however a veteran with 18 years of service. She hails from Odisha having served across the country.
An increasing number of women from Uttar Pradesh and Bihar are joining the CRPF and other Central Armed Police Forces (CAPFs) that have an all-India presence. "Currently, we have 86 women working with 101 RAF Bn in Prayagraj. Of these, over 70% are from UP and Bihar," shared SI Pramodini Routaray.
"More women from UP and Bihar are now joining us and serving with distinction," said Brijesh Kumar Dubey, deputy commandant (administration) of 101 RAF Bn of the CRPF.
SSC records show that while 30,041 girls from these two states had applied for sub-inspector recruitment in CAPFs in 2019, the number rose to 34,329 in 2022 recruitment. The maximum rise has been in constable (general duty) recruitment, wherein the number of girls from UP and Bihar has more than doubled to 4.81 lakh in 2021 as compared to 2.35 lakh in 2018, said Rahul Sachan, SSC central region's regional director.