1,250 trees to go for new sewage treatment plant in Worli
Prayag Arora-Desai and Jeet Mashru
Jan 31, 2023 12:54 AM IST
P Velrasu, additional municipal commissioner (projects), said, "There are a total of 1,286 trees in the area. As per the conditions of our tender, we have asked the agency to work on a design that will result in a minimum number of tree cuttings. We have also issued a letter to the winning bidder to design it in a way that minimum trees are affected
Mumbai: At least 1,250 trees in Worli, behind the Lovegrove pumping station, are proposed to be removed by the Brihanmumbai Municipal Corporation (BMC) for an upcoming sewage treatment plant (STP). The project was inaugurated by Prime Minister Narendra Modi on his recent visit to the city. Of the earmarked trees, 573 will be felled while 677 will be transplanted, according to a public notice issued by the BMC's gardens department on January 24.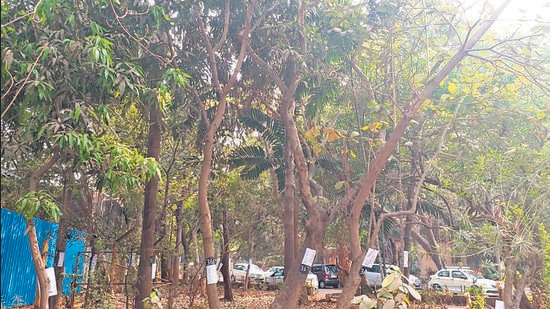 P Velrasu, additional municipal commissioner (projects), said, "There are a total of 1,286 trees in the area. As per the conditions of our tender, we have asked the agency to work on a design that will result in a minimum number of tree cuttings. We have also issued a letter to the winning bidder to design it in a way that minimum trees are affected."
BMC on December 28, 2022, sent a show cause notice to the agency that was awarded the project. "As almost all trees are either proposed to be cut or transplanted, it is noticed that no efforts have been taken by you to minimise the tree cutting/transplantation while designing the plan layout as required," read the notice, a copy of which has been seen by HT.
This show cause notice mentions a total of 1,228 trees to be chopped or transplanted. However, in the notice issued by the garden's department on January 24, the number rose slightly to 1,250 trees, suggesting that the show cause notice hasn't yielded the desired results. When questioned about this discrepancy, Velrasu refused to comment.
Ashok Mengde, chief engineer (sewage operations), also did not directly answer the question, "The area is a slightly secluded patch behind Lovegrove pumping station. There are no mangroves there, only a mix of small and large trees which were put as plantations for the adjacent residential area. We are still working with the agency to ensure that as few trees as possible get cut."
The upcoming STP at Worli has been a long-pending development and is central to the BMC's Sewage Disposal Project-II (MSDP-II), which has been outsourced to seven contractors and is being executed at a cost of around ₹26,000 crore. The city's raw sewage (which is collected at seven locations including Worli, Bandra, Colaba, Versova, Malad, Ghatkopar and Bhandup) will be treated at seven new STP's each with a capacity of 2,464 million litres per day. The existing STP in Worli has been operational since 2006 and treats only 3MLD of sewage per day.