8-car mini Vande Bharat trains get funds from budget; to run intercity
Feb 06, 2023 12:34 AM IST
Sources said that allocation has been made for 8-car Vande Bharat trains which will cost ₹65 crore per rake. In a bid to go green and run environment-friendly trains, its engine will be powered by hydrogen, costing ₹80 crore. These hydrogen trains will run on heritage rail lines which might include the Neral-Matheran route as well
Mumbai: In order to provide a swift journey for passengers in the intercity routes, the Indian Railways is all set to roll out mini versions of semi-high speed Vande Bharat trains, for which, the government has allocated funds from the Union Budget.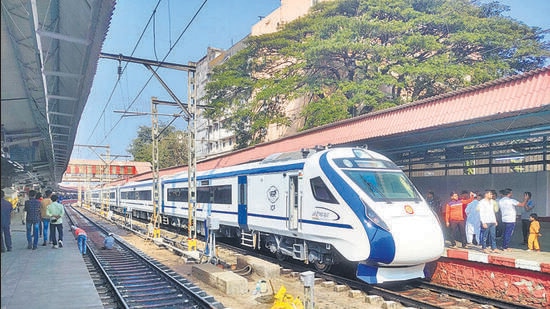 Sources said that allocation has been made for 8-car Vande Bharat trains which will cost ₹65 crore per rake. In a bid to go green and run environment-friendly trains, its engine will be powered by hydrogen, costing ₹80 crore. These hydrogen trains will run on heritage rail lines which might include the Neral-Matheran route as well.
Senior railway officials said the government has calculated the capital required for manufacturing these new sets of trains. The Indian Railways is looking at manufacturing 1,000 Vande Bharat rakes, of 8-car configuration, at a cost of ₹8.125 crore per coach. During the financial year 2023-24, an allocation of ₹10 lakh has been made namely for designing the concept and primary research.
"As per plans, we intend to run intercity trains connecting two towns or cities with this smaller length of Vande Bharat trains. These would be for connecting cities/towns that are less than 100-150 km," said a railway official.
The eight-car version is being developed at the Integral Coach Factory (ICF), Chennai and will also be manufactured at workshops of Rai Bareilly, Latur and Sonipat. As part of designing the concept; the authorities are working on the rake formation, seating arrangements and any other improvements that are needed.
This eight-car train can be extended into a 12-car or even a 16-car train depending on the demand from passengers on that route. As the railways are planning to run more and more Vande Bharat trains, they feel that passenger traffic could be low in routes connecting tier-2 cities and towns and may not be cost-effective to run 16-car Vande Bharat trains.
The railways have also received funds of ₹10 lakh for research on Vande Metro rakes that are likely to run in metropolitan cities where suburban lines are running. At this point in time, these Vande Metro rakes could be procured for Chennai, Delhi and other cities, but are not planned for Mumbai where air-conditioned EMU rakes will be procured. Senior railway officials said that 300 Vande Metro rakes comprising 3,600 coaches will be manufactured at a cost of ₹75 crore for every 12-car Vande Metro rake.
Recently, union railway minister Ashwini Vaishnaw said that by December 2023, the first such train will be ready. Sources said that this train will then undergo trials for at least a year before it is commissioned.
These hydrogen trains are slated to include retrofitted versions of steam engines that will be back on track after years, equipped with vintage sirens and green steam vapours. "We have proposed to manufacture 35 hydrogen rakes of 210 coaches at a cost of ₹80 crore per rake. These have been planned on heritage rail routes," said a senior rail official.
Routes for such trains include Kalka-Shimla, Matheran Hill, Nilgiri Mountain Railways, Darjeeling Hills, Kangra Railways, and the Bilimora-Waghai Line among others. The rail authorities claim that only very few countries like Germany, France and China have developed hydrogen trains and now India is also looking to manufacture them.