BEST to roll out first AC double decker electric bus this month
Feb 01, 2023 09:36 AM IST
India's first AC double decker electric buses are all set to join the BEST (Brihanmumbai Electric Supply and Transport) fleet by mid-February, more than five months after union minister Nitin Gadkari inaugurated the service
India's first AC double decker electric buses are all set to join the BEST (Brihanmumbai Electric Supply and Transport) fleet by mid-February, more than five months after union minister Nitin Gadkari inaugurated the service.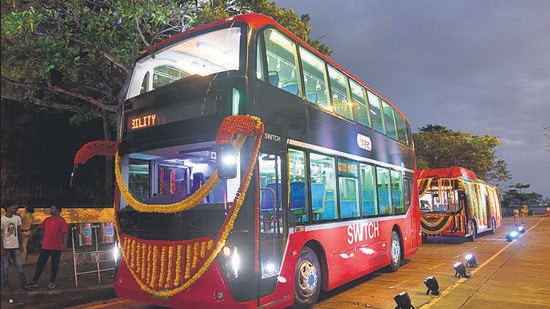 The contractor, Switch Mobility, is hopeful of getting the necessary certification soon, said Lokesh Chandra, general manager, BEST Undertaking. "We were supposed to get the first batch in September but getting the certification from Automotive Research Association of India took time. Hopefully, these buses will be on the city roads in February," he said.
Switch Mobility, a subsidiary of Ashok Leyland, is to deliver 50 buses in the first phase and 10 of them are expected to arrive soon. Each vehicle costs ₹2 crore and it can carry around 90 passengers. BEST plans to introduce a total of 200 such buses, named EiV22.
BEST officials said they have been in constant touch with the contractor, asking them about the status of certification and production, for the last several weeks. But the company allegedly kept extending the deadline, they said.
Switch Mobility, however, claimed they are well on schedule.
"We are expecting to receive the necessary certificate today (January 31) or tomorrow. There is speculation over the supply date of these electric double decker AC buses. But I want to clarify that the first batch will be delivered in February. There were expectations to send it before the schedule but as per the contract we are supposed to supply these buses by February," Mahesh Babu, chief executive officer of Switch Mobility Limited, said.
Induction of 200 such buses will not only reduce the undertaking's carbon footprint by 41% but will also save its 26 million litres of diesel per year.
Each vehicle has a 231kWh battery with a claimed range of up to 250km. However, an operational run of 160-180km can only be expected owing to factors like traffic, weather conditions etc. The bus can cover 100km with just a 45-minute charge while a full charge takes 80 minutes.