Crackdown on sand dredging: 2 barges, 2 suction pumps destroyed in Kalyan
Published on Jan 21, 2023 11:44 PM IST
A team of revenue officials led by Kalyan and Dombivli tahsildar carried out a raid at Thane creek and found two barges using suction pumps for dredging sand crush. The suction pumps were seized and destroyed using gas cutters, while sugar was poured into the engines of both the barges, disabling them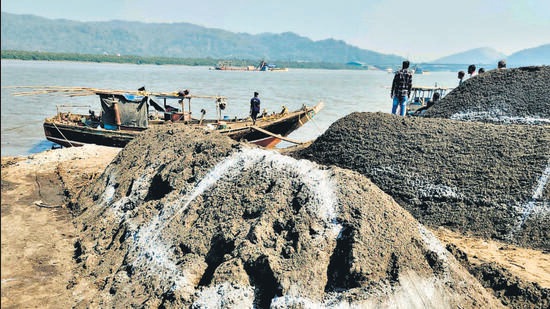 Thane: As part of a special drive against sand mafia and illegal dredging, the revenue officials on Friday seized and destroyed two barges and two suction pumps worth ₹50 lakh in Kalyan.
A team of revenue officials led by Kalyan and Dombivli tahsildar carried out a raid at Thane creek and found two barges using suction pumps for dredging sand crush. The suction pumps were seized and destroyed using gas cutters, while sugar was poured into the engines of both the barges, disabling them. Later, the barges were also destroyed using gas cutters.
Another team from Thane Collectorate also recovered 130 brass of sand from dredging operators at Retibunder off Ghodbunder Road, and pushed it back into the creek. The team also seized 97 brass of sand and 78 brass of stone powder.
The action was taken on the orders of Thane Collector Ashok Shingare and Additional Collector Manisha Jaybhaye Dhule.
The Thane district administration has been carrying out special drives against illegal sand dredging and the revenue teams have conducted 46 raids and seized 63 suction pumps, two barges and 3,746 brass of sand stock, which has been auctioned, since April 2022. Penalties have been levied against 195 vehicles and a revenue of ₹2.86 crore was generated, the officials said.
One brass of sand is equal to 100 sq ft and A grade construction sand crush sells for ₹4,500 per tonne on online mart, www.Indiamart.com.