First eight-car metro train ready for safety trials
Updated on Aug 08, 2022 10:55 PM IST
MUMBAI The first eight-car prototype metro train made by the Mumbai Metro Rail Corporation (MMRC) for the metro railway line 3 between Colaba, Bandra and SEEPZ is finally ready for technical trials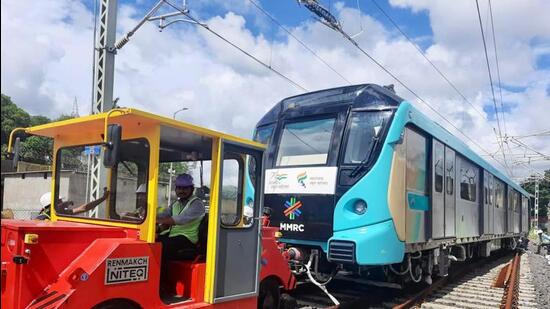 MUMBAI The first eight-car prototype metro train made by the Mumbai Metro Rail Corporation (MMRC) for the metro railway line 3 between Colaba, Bandra and SEEPZ is finally ready for technical trials.
While the first four metro coaches arrived in Mumbai last week, the last four arrived on Monday.
The train was made by battery-operated rail cum road shunter that was procured for the MMRC metro car depot. With the help of the shunter, the first eight-car train was formed and pulled to temporary testing track and train delivery in Sariput Nagar in Aarey.
"The shunter has a carrying capacity of 350 tonnes and with a fully-charged battery capacity, it can shunt eight cars and train up to 9 kms. It has the capacity of producing a continuous drawbar pull of 50 Kilonewtons. This shunter was tested successfully with its automatic coupler as well as semi-permanent coupler adapter, both used for connecting metro cars," said a statement from MMRC.
The metro 3 corridor between Colaba-Bandra and SEEPZ underground corridor is expected to be opened in two phases, of which phase one will be between Aarey and Bandra Kurla Complex (BKC). Major work on the depot is expected to be completed by the end of 2023.
The metro coaches had arrived in the city last week on a trailer that left from Andhra Pradesh. The coaches arrived 13 days after they had left.
The four coaches that arrived in the city last week weighed 42 tonnes each and were brought in special eight axelled trailers.
The metro train corridor whose depot will be constructed at Aarey will be able to accommodate 30 metro trains and is being constructed at a cost of ₹328 crore.
Personalise your news feed. Follow trending topics