HC grants CBI 3 days to reply on Dhoot's plea
Jan 11, 2023 12:33 AM IST
The Bombay high court on Tuesday granted the Central Bureau of Investigation (CBI) three days to file its reply to a petition filed by Videocon Group chairman Venugopal Dhoot, seeking bail and quashing of the FIR registered in a multi-crore loan fraud case
Mumbai: The Bombay high court on Tuesday granted the Central Bureau of Investigation (CBI) three days to file its reply to a petition filed by Videocon Group chairman Venugopal Dhoot, seeking bail and quashing of the FIR registered in a multi-crore loan fraud case.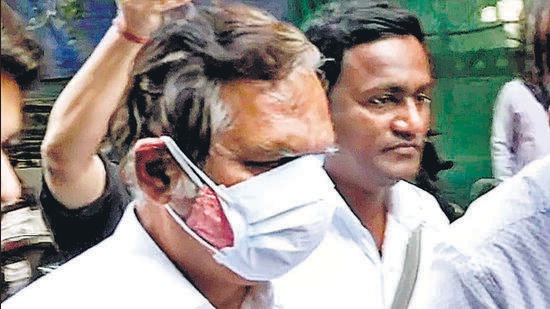 Dhoot claimed that his arrest on December 26 was illegal and hence be granted interim bail.
The division bench of justice Revati Mohite Dere and justice P K Chavan, which had granted bail to Chanda Kochhar, former MD and CEO of ICICI Bank, and her husband Deepak Kochhar on Monday, while hearing Dhoot's petition was informed by advocate Sandeep Ladda that apart from quashing the CBI FIR, the plea was also seeking quashing of his remand orders by the special CBI court as his custody was illegal and in gross violation of sections 41 and 41A of the Code of Criminal Procedure (CrPC) and articles 14, 19 (1) (d) and 21 of the Constitution.
The petition stated that his arrest and remand were arbitrary, an abuse of authority and process of law, baseless, frivolous and deserve to be quashed and set aside.
When the counsel for Dhoot expressed urgency in the hearing of the matter as he suffers from heart blockages and requires constant monitoring by a health professional, the bench asked CBI to file its response by Friday.
Dhoot's petition stated that he is a senior citizen and has several serious ailments and had undergone several surgeries and hospitalisation in the last seven years due to his ill health, hence requires constant assistance and monitoring.
Regarding his arrest, the petition mentioned that he had gone voluntarily to the agency's office on December 26 after being released from a hospital in Aurangabad, but he was arrested despite cooperating and responding to notices, which was a violation of the Supreme Court guidelines.
While seeking a stay on the operation of the orders of the special CBI court, Dhoot stated that the orders were passed without any basis, authority and violated his fundamental rights, including life and personal liberty. The plea added that though the CBI officers had not followed proper procedure, the special CBI judge had mechanically authorised his arrest.
The petition mentioned that the Enforcement Directorate (ED) which had also filed a case against him and the Kochhars had not deemed it necessary to arrest him. The agency had filed a chargesheet in the case as well as he had been cooperating with them. The petition concluded that as Dhoot was granted bail in a money laundering case and the same should be considered while granting him bail.