In 2022, city saw 30% decline in road accidents
Jan 30, 2023 12:39 AM IST
However, this year, the traffic police recovered a whopping ₹398.11 crore in fines as compared to ₹222.67 crore in 2021.
Mumbai: The city has seen a 30% decline in fatalities due to road accidents in 2022 as compared to the previous year, states a data released by the Mumbai Traffic Police. In 2022, the number of fatalities stood at 268, compared to 376 in 2021.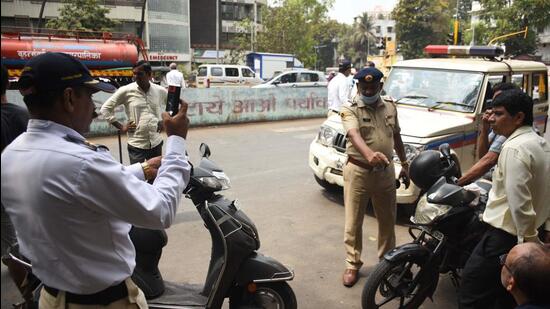 However, though the accidents have declined, the data suggests that Mumbaikars do not follow traffic rules and regulations. In 2022, the traffic police recovered a whopping ₹398.11 crore in fines as compared to ₹222.67 crore in 2021.
Earlier, the traffic police had made seat belts mandatory for all passengers in a car after the death of Indian-born Irish businessman Cyrus Pallonji Mistry in an accident on the Mumbai-Gujarat highway on September 4, 2022. However, the citizens seemed to be even averse to this regulation despite being given ample amount of time to follow the rule.
"Road safety is one of the most important goals for the Mumbai Traffic Police and it is our constant endeavour to create safer streets for the citizens of Mumbai. Last year, more action was taken and more efforts were to recover pending e-challans," said Pravin Padwal, joint commissioner of police (traffic).
As per the data, 1,21,537 challans were issued to passengers – who were not drivers – for not wearing seat belts while travelling in a car which amounted to a fine of ₹2.43 crore. The traffic police also issued 2,22,174 challans to four-wheeler drivers for not wearing seatbelts and recovered a fine of ₹4.44 crore.
The data also points out the indiscipline in following basic traffic rules like wearing a helmet while riding a two-wheeler. 12,12,364 challans were issued to motorists who rode without a helmet and fines of over ₹60.61 crore were recovered from them.
"Despite raising awareness, we registered a maximum number of cases against two-wheeler riders for not wearing helmets," said a senior police officer on condition of anonymity. The increase in traffic violations is also because the traffic department ensured stricter action as compared to 2021 or 2020.
Obstructing free-flowing traffic topped the charts of e-challans with 12,94,433 challans issued and fines worth over ₹103.26 crore recovered.
AV Shenoy, from the Mumbai Mobility Forum, said that offences like helmet-less riding are easy to catch and rampant, however, offences like speeding and wrong-side driving are more serious. These offences are increasing as people are unaware of the speed limit as there are fewer signages.
The traffic police should increase the number of signages and also devise more efficient ways to recover pending challans, said Shenoy, adding, "Traffic wardens and marshals should be sent to the houses of offenders after constant reminders to pay pending challans. There should also be a mechanism in cars warning the driver of exceeding the speed limit which is present in foreign countries."