Man grievously injured by manja in Santacruz
Updated on Jan 03, 2023 12:42 AM IST
Mumbai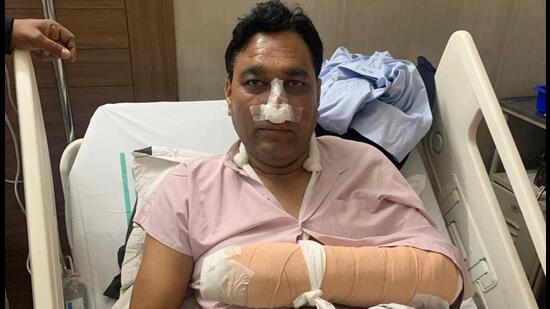 Mumbai. A 51-year-old man, who was riding a bike, sustained three deep cuts on his nose and hands, on Sunday, after he got entangled in a kite's thread (Manja) in Santacruz (East).
Property dealer Jasbir Singh Batra was heading to the domestic airport for some work. The incident occurred at 5.15 pm on the domestic airport road opposite Kalimata mandir.
"I was driving towards the airport and suddenly a kite thread dropped on my face. I was wearing a helmet and by the time I could put away the thread, it slashed my nose. I used my left hand to put it aside, but the kite flyer probably pulled it and the sharp thread left two deep cuts around my fingers," said Batra.
Batra slowed down and stopped the bike as he was bleeding profusely. His colleague and friend Aditya Shukla, who was sitting pillion, rushed him to a nearby civic hospital. Later he was shifted to a private hospital.
"As cuts on my left hand were deep, doctors performed plastic surgery on Sunday night itself," Batra said. "Since I was riding my bike slowly, I could manage to control my vehicle and didn't lose balance. Had we been proceeding in speed, we could have lost our lives," he added.
Batra said that with 'Makara Sankranti' nearing, the police should intensify patrolling alongside the highways and major roads and stop people from flying kites in these areas to prevent such incidents.
The Vakola police are inquiring into the matter.