Mumbai sees 23% drop in Covid vaccinations in July compared to June
The data reveals that vaccination at public centres has increased marginally in July compared to June, but the vaccination at private hospitals has seen a significant fall of around 50%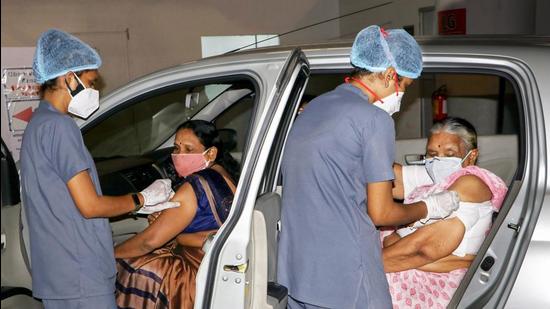 Published on Jul 29, 2021 11:42 PM IST
By Mehul R Thakkar
, Mumbai
The city has reported a 23% drop in the number of vaccinations conducted in the first 28 days of July (1,499,125) compared to June (1,949,878), according to data provided by the Brihanmumbai Municipal Corporation (BMC). The data reveals that vaccination at public centres has increased marginally in July compared to June, but the vaccination at private hospitals has seen a significant fall of around 50%.
In total, there are 425 vaccination centres in the city, of which 293 are civic-run centres, 20 of state government and 112 are private hospitals. In 28 days of June, private hospitals vaccinated 1,244,822 citizens that went down to 669,814 in July. Public vaccination centres include centres run by the BMC and state. Further, in 28 days of June, 705,056 citizens were vaccinated in public vaccination centres that went up to 829,311 in July. Overall, in June, more than 2 million doses were administered, a jump from 0.8 million doses in May 2021.
Private hospitals said one of the reasons is because vaccination became free by the last week of June, while many attributed it to shortage of stock. Behram Khodaiji, joint chief executive officer at Masina Hospital, said, "The number of people turning up at Masina hospital dropped by 20%-30 % in the past 30 days. According to BMC data, more people are getting vaccinated at civic-run hospitals. As citizens will have to pay for their vaccination at private centres, most choose government centres. Also, as per the guidelines, people who have taken their first dose have to mandatorily wait for 84 days before they can take their second one which results in a drop in numbers."
Dr Mangala Gomare, chief of BMC's public health department, said, "Our vaccination has increased, but our potential is much more and if we are having more stock, we can vaccinate more citizens. Our capacity is to vaccinate 100,000 citizens on a daily basis. In private hospitals, those willing to pay have taken it already. Also, there is a shift as vaccination has become free in public centres. I do not feel there is any issue of shortage of vaccine doses in private hospitals."
As 53,076 citizens were vaccinated on Thursday, the city crossed the seven million mark, with 7,020,006 doses administered since January 16. A total of 1,694,895 citizens are fully vaccinated in the city.
Meanwhile, as of July 29, of the total 7,020,006 vaccine doses administered in the city, 2,552,299 are in the 18-45 age group, 2,133,666 in 45-60 age group, 1,597,377 senior citizens, and 713,324 frontline and health care workers.
Close Story