Ghaziabad municipal body takes over STP for treated water supply
Jan 31, 2023 12:26 AM IST
The officials said the treated sewage water will be send to the tertiary sewage treatment plant (TSTP) which is getting constructed in Indirapuram as part of the project
The Ghaziabad municipal corporation has taken over from Ghaziabad Development Authority (GDA) the 56MLD (million litres daily) sewage treatment plant (STP) in Indirapuram as part of its ₹320 crore project to supply treated water to industrial units of Sahibabad Industrial Area.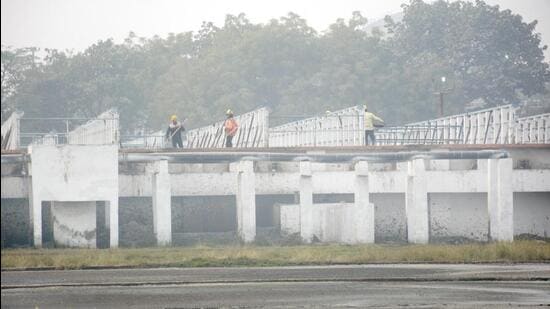 The officials said the treated sewage water will be send to the tertiary sewage treatment plant (TSTP) which is getting constructed in Indirapuram as part of the project. Officials said 95km long pipeline has been laid to connect the two plants and to provide treated water to about 1,400 industrial units in Sahibabad.
"The 56MLD STP has been taken over by the corporation and its treated water will be further send to the TSTP. The TSTP will refine the treated water and supply improved treated water to industrial units. The final treated water will meet the drinking water standards. Initially, we plan to provide 40MLD treated water to about 1,400 units, thus saving on precious groundwater," said Nitin Gaur, municipal commissioner.
A recent survey had found that the number of units availing of the treated water has reduced to 933.
"Another survey is being conducted to assess the final number of industrial units availing of the treated water supply. A formal agreement to supply of water will be signed with the individual industrial units. The rate of per kilolitre of treated water per day will be about ₹45-48 and the final rate will be assessed after calculating the tax component," Gaur said.
For purpose of funding the water supply project, the corporation in April 2021 also floated and listed bonds at the Bombay Stock Exchange to the tune of ₹150 crore. The corporation conceived of the treated water supply project to save on the use of groundwater as the water table is dropping at an alarming level in Ghaziabad areas.
According to the Uttar Pradesh groundwater department, the groundwater level in 27 localities in the city, a majority of which are situated in the trans-Hindon area, has witnessed an alarming decline in the water table by about 5.3 metres below ground level (mbgl) in the past four years.
The report said the water level in the 27 localities declined sharply from an average of 24.79mbgl during the post-monsoon period in 2017 to an average of 30.08mbgl during the post-monsoon period in 2021.
The maximum dip in groundwater levels was recorded in Vijay Nagar (7.9mbgl), Pratap Vihar (7.32mbgl), Vaishali (6.43mbgl), Arthala (6.01mbgl), Lajpat Nagar (5.93mbgl) and Sahibabad (5.72mbgl).
The officials said the TSTP in Indirapuram will be commissioned in 2024.
"We will save about ₹5.5 crore that we annually spent on maintenance of the 56MLD STP in Indirapuram as that facility has now been handed over to the municipal corporation," said Rakesh Kumar Gupta, chief engineer of GDA.