Man held for murdering wife with iron pan in Noida
Updated on Jan 23, 2023 12:42 AM IST
Noida: Gautam Budh Nagar police arrested a suspect on Saturday for allegedly murdering his wife in Noida, police said.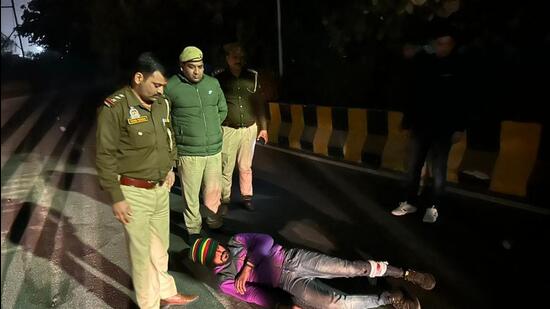 Noida: Gautam Budh Nagar police arrested a suspect on Saturday for allegedly murdering his wife in Noida, police said.
On January 9, a 22-year-old woman was found dead at a locked flat in Bishanpura village under Sector 58 police station limits. The victim was identified as Anjali, wife of Suraj (25), both hailing from Azamgarh. Her family members had alleged that her husband killed her about a week ago and fled the house after locking it. On January 10, police had registered a murder case and launched an investigation to nab the suspect, said police.
Incidentally, the Noida deputy commissioner of police also declared a bounty of ₹20,000 for his arrest.
Also read: Delhi man dies after allegedly jumping from 43rd floor of Noida building
"Police teams were sent to Azamgarh to look for him but it was found that he had not come back to his village. We came to know that Suraj was still in Noida and was sleeping in parks and footpaths to escape police. On Saturday evening, a police informer reported seeing him on a scooter near a park in Sector 57 and a team was sent to the spot," said Ashutosh Dwivedi, additional deputy commissioner of police, Noida.
ADCP Dwivedi added that as a police team surrounded the suspect, he tried to flee. He also fired at the police team. "The suspect was shot on his leg in retaliatory firing by our personnel. He was admitted to a hospital for treatment," he said.
Police recovered a country-made pistol with live cartridges from the suspect.
Investigators said that during interrogation, Suraj revealed that he murdered his wife on the night of December 31.
"Suraj doubted Anjali's character because of which they used to have frequent arguments. On the night of December 31, Suraj and Anjali had a heated argument and he smashed her head with an iron pan (tawa) two to three times and later choked her to death," said ADCP Dwivedi.
Police added that Suraj locked the home from outside and fled after the murder. Anjali's body was found by her cousin on January 9, when foul smell emanated from the house.
"Suraj and Anjali have a two-year-old daughter who was at Anjali's mother's home in Azamgarh at the time of the incident. The suspect used to work at a furniture shop but had lost his job in December last year. He will be produced before a court after being discharged from the hospital," said Vivek Trivedi, station house officer (SHO), Sector 58 police station.