22 healthcare providers at PGIMS, Rohtak test positive for Covid
Published on Mar 31, 2021 01:25 AM IST
The Post-Graduate Institute of Medical Sciences (PGIMS), Rohtak, was hit hard by Covid-19 as 22 healthcare providers have tested positive in a week, by Tuesday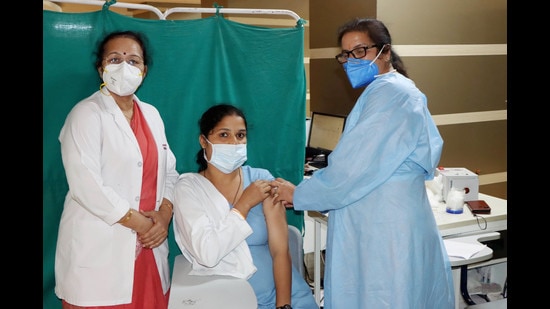 The Post-Graduate Institute of Medical Sciences (PGIMS), Rohtak, was hit hard by Covid-19 as 22 healthcare providers have tested positive in a week, by Tuesday.
PGIMS spokesman Dr Gajender Singh said 22 doctors, including 19 postgraduates, two senior residents and a faculty member have contracted the virus by Tuesday evening.
"We have 57 post-graduate students, 27 faculty members and six senior resident doctors posted in the gynaecology department. Of these, 22 have contracted the virus. The health of none of the medical staff is serious," he said.
"Patients visiting the gynaecology department range from 500 to 1,000 per day. There is no serious threat to healthcare facilities so far even after some service providers were found infected," he added.
He said that they are ascertaining as to how the doctors got infected.
A junior doctor, working with the gynaecology department, who has tested positive for the virus, said, "The negligence and nonchalant attitude of faculty and senior resident doctors has led to many of the associates turning into patients."
"Many patients are visiting the hospital without getting tested for Covid-19 and our bosses are also reluctant in tackling the situation. There is more burden on the PGs and that's why 19 students got infected with the virus," the doctor said, requesting anonymity.
Patients have urged the hospital authorities not to shut down services of the department.
"We think that there was a super spreader and due to this, 22 healthcare providers are infected. This is negligence on part of staff of the gynaecology department," the senior official said, pleading anonymity.
'None of those infected had received second dose of Covid vaccine'
Dr VK Katyal, nodal officer for Covid-19 at PGIMS, said he has sought a report from the gynaecology department on how many doctors have taken first dose of the vaccine.
"Initially, we got information that four of the 22 healthcare providers have received the first dose. But none of these doctors had taken the second dose of the vaccine. The gynaecology department is claiming that many of the infected workers had taken the first jab but it is now a matter of investigation. We are closing the labour room for the next 48 hours and will start operations from another place," the nodal officer added.
Personalise your news feed. Follow trending topics