In prison, ex-Bengal minister Partha Chatterjee spends time reading
Published on Aug 10, 2022 09:47 AM IST
Officials said Chatterjee has been having oily snacks he should be avoiding and sought paper and a pen on Monday saying he will write about his life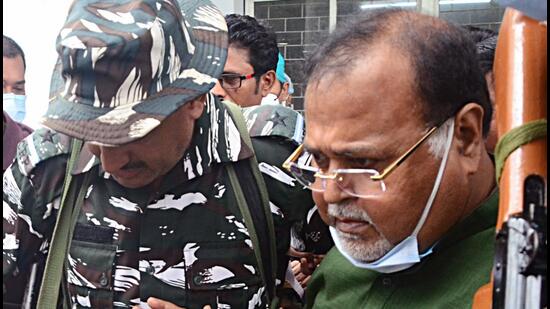 Former West Bengal minister Partha Chatterjee, who was arrested on July 23 in an alleged job scam case, has been reading compilations of the works of writer-activist Mahasweta Devia and sermons of 19th-century saint Sri Ramakrishna Paramahamsa in his solitary cell at Kolkata's historic Presidency Jail now designated as a correctional home.
Officials said Chatterjee has been having oily snacks he should be avoiding and sought paper and a pen on Monday saying he will write about his life. A prime accused in the scam, Chatterjee has been designated as prisoner number 943799 and lodged in cell number 2 in a block with 22 cells.
Officials said Chatterjee has also requested a few other books on politics, economics, and law. He is provided newspapers, which Chatterjee has so far shown no interest in.
Chatterjee and his close aide Arpita Mukherjee, who is lodged at the Alipore correctional home for women within 200 metres of the Presidency Jail, were on August 5 remanded in judicial custody for two weeks. The two were arrested after the Enforcement Directorate (ED) seized ₹21.90 crore, jewellery valued at around ₹70 lakh and foreign currency worth around ₹54 lakh from Mukherjee's apartment in Kolkata. ED later recovered more cash and gold.
Additional guards have been deployed to ensure Chatterjee and Mukherjee's security. The ED told a court last week that Mukherjee's life could be in danger as she is privy to sensitive information.
Officials said Mukherjee often breaks down and refuses to have food. She has demanded dry fruits.
A close aide to chief minister Mamata Banerjee, Chatterjee was sacked as the minister and suspended from the ruling Trinamool Congress (TMC) after his arrest.
Officials said Chatterjee initially threw tantrums and wanted to have rice for both lunch and dinner. He reluctantly had dinner comprising lentils, vegetable curry, and flat bread on day one. He has since eaten whatever is cooked for other inmates. Chatterjee has also insisted on having his favourite puffed rice.
Chatterjee, who is dependent on medicines, has been examined regularly as edema (swelling of ankles and feet) has been troubling him, said lawyer Sukanya Bhattacharya, who visited the former minister twice in five days.
Edema is caused by obesity and the side effects of blood pressure medicines, among other reasons. Chatterjee was not inclined to visit the jail hospital, officials said. He was allowed to stroll in the corridor outside his cell on Tuesday since physical movement reduces edema to some extent.
Chatterjee has been given four blankets according to the rules and was asked to sleep on the cell floor. The authorities provided a cot after he complained he could not sleep because of back pain. "He slept on the cot for almost eight hours the next day," a prison staffer said on condition of anonymity.
Chatterjee's cell has a small lavatory but the prisoners have to bathe in a common area. He was provided with a drum of water outside his cell on Monday since he did not want to go to the bathing area in the Presidency Jail, where freedom fighter Subhas Chandra Bose was among those imprisoned during India's freedom struggle.
Sudipta Sen, a prime accused in the Saradha chit fund scam, is now among those lodged in the Presidency, along with TMC leader Chhatradhar Mahato, who was arrested in the 2009 Rajdhani Express hostage case, and Aftab Ansari, a convict in the 2002 attack on Kolkata's American Centre.
Personalise your news feed. Follow trending topics