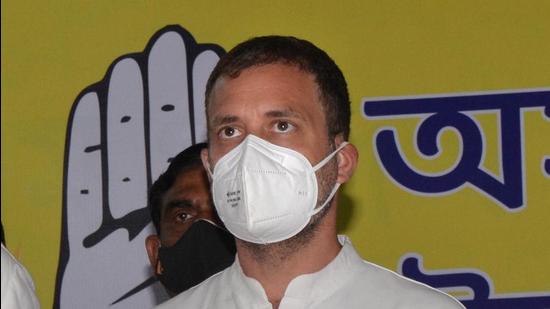 Cong promises 500k jobs, repeal of CAA
Congress leader and former party chief Rahul Gandhi said that, "This is a manifesto that has the voice of Assam".
By Biswa Kalyan Purkayastha
UPDATED ON MAR 21, 2021 05:36 AM IST
The Congress party unveiled on Saturday their manifesto for the March 27 Assam polls, reiterating its "five guarantees" that included ₹2,000 per month for homemakers, a legislation to nullify the Citizenship Amendment Act (CAA) and creation of 500,000 jobs.
Unveiling the manifesto at a press conference in Guwahati, party general secretary in charge Rahul Gandhi said: "This is a manifesto that has the voice of Assam. It is a manifesto of the state and this has been made after discussion with people of all sections. Not only it provides five guarantees but also guarantees to save the essence of Assam which has been attacked constantly by the BJP and the RSS."
The party has also promised 200 units of free electricity per month, besides hiking the minimum wages of tea garden workers to ₹365 and resuming operations at two defunct paper mills.
Gandhi said the Congress guarantees to defend the idea of Assam that contains culture, language, tradition, history and the way of thinking. "This is our commitment. You are aware that BJP and RSS are attacking the diverse culture of India and Assam. We will defend that."
Attacking the BJP, Gandhi said, "BJP will privatise strategic assets of the Assamese people." "We guarantee that we will not sell Gopinath Bordoloi International Airport to Modi ji's friend. We will safeguard the essence of Assam."
The Bharatiya Janata Party, however, called the Congress's manifesto laughable. "We all know how congress party has made the manifesto, we have seen the video. They don't have to think whether these promises are real or not because anyway they are not coming to power this year. So there will be no burden of fulfilling any promise. But with these sorts of promises, they are again trying to fool the common people, which is sad," said former PWD minister Parimal Suklabaidya.
Elections to the 126 assembly seats in Assam will be held in three phases, starting March 27.
The Congress has allied with three Left parties -- Communist Party of India (Marxist), Communist Party of India and Communist Party of India (Marxist–Leninist) -- as well as the All India United Democratic Front and the Anchalik Gana Morcha. The Bodoland People's Front, too, joined the Congress alliance.
Close