ASER flags Bihar schools' worrying learning outcome, dip since 2018
Jan 22, 2023 10:52 PM IST
As per the ASER report, while the percentage of class 3-5 children, who could read class 2 level text was 32.8 in 2018, it came down to 30 in 2022.
PATNA: Bihar seems to have dipped or stagnated in the last four years, which includes the huge Covid disruption, in terms of learning outcome, which continues to be low. Reading levels have dipped further, as per the comparison of the annual status of education report (ASER) in 2018 and 2022.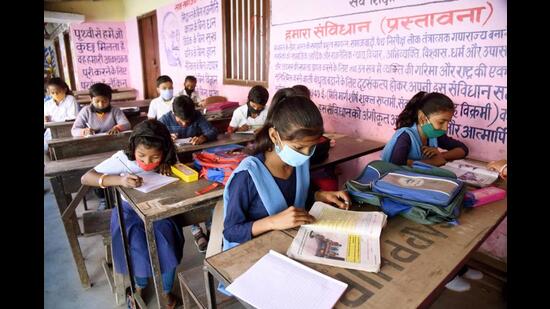 While the percentage of class 3-5 children, who could read class 2 level text was 32.8 in 2018, it came down to 30 in 2022. Similarly, the class 6-8 students who could at least read class 2 text was 63.1% in 2018, it dropped to 61.3% in 2022. What is striking is that the learning outcome among girls has shown some improvement, while it has dropped for boys.
There was, however, a marginal improvement in arithmetic skills, with the percentage of children who do at least subtraction in class 3-5 going up from 38.2 to 41 and class 6-8 students able to do simple division increasing from 49.2 to 52.4 during the four-year period.
In reading skills, there has been a significant drop across several districts, while some have also improved. In Buxar, according to ASER, there has been a huge dip in the reading ability of students in class 3-5 group who could at least read class 2 text from 43.4% to 26.1%, though it witnessed a slight increase from 59.9 % to 62.9% in class 6-8 category for the same.
The trend is similar in Rohtas for the class 3-5 age group. In Patna, while there has been an increase in reading ability in class 3-5 age group, but there is a dip from 71.9% to 66.9% in reading ability among students of class 6-8. Saran and Arwal also witnessed a similar trend, as the reading ability of simple class 2 text slightly improved for classes 3-5, but dipped for classes 6-8.
As many as 24 districts have shown a reduction in reading ability among class 3-5 students when compared between 2018 and 2022. Among classes 6-8, the number of districts recording a drop in reading ability compared to 2018 increased to 27.
Education minister Chandrashekhar's district Madhepura has shown a significant fall in reading ability In both categories.
The overall performance in basic arithmetic skills is better, though 11 districts still witnessed a fall in the ability of class 3-5 students to do simple subtraction. In class 6-8 category, there were only five districts that witnessed a drop in doing simple division.
Dr Rukmini Banerji, chief executive officer (CEO) of the Pratham Educational Foundation, said there were two things to note in the findings overall. "The learning levels in India and in Bihar seen in 2022 should be analyzed in the context of longer trends that are visible even in the pre-Covid times. Learning levels were worryingly low for the decade even before the pandemic hit. The period 2018 to 2022 can be seen in three distinct sections - 2018 to March 2020 schools when functioned as usual, March 2020 to sometime time in 2022 when schools remained closed and from roughly April 2022 onwards, when schools opened up again and functioned as usual," she said.
Banerji said ASER 2022 data collection happened in the September-November ember period. Which means that the figures capture the joint effect of possible learning loss during school closures and recovery in the period once schools opened. "Children's learning is influenced by what happens in school and what happens outside school (in the family and in the case of Bihar and other eastern states - tuition is an important factor). ASER is only a temperature-taking exercise. What is needed is a deeper understanding of what the state/district/block or school did with children once schools opened and how families responded to the pandemic and after. ASER data shows a rise in tuition from an already high level to even higher," she further said.