704 Covid positive patients in PMC are fully vaccinated
Updated on Jun 27, 2022 12:56 AM IST
Many patients are asymptomatic or carry mild symptoms. Hospitalisation has increased gradually, but is low as compared to previous Covid waves in the city limits, says Dr Sanjeev Wavare, assistant health chief, PMC health department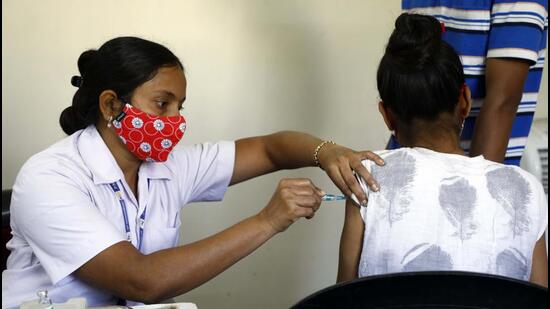 Until June 23, 704 Covid positive patients under Pune Municipal Corporation (PMC) limits were double vaccinated and 11 patients received single dose. According to officials, there were 71 patients with no vaccination till June 23. Till Sunday (June 26), there are 2,064 active patients in PMC limits.
Dr Sanjeev Wavare, assistant health chief, PMC health department, "Many patients are asymptomatic or carry mild symptoms. Hospitalisation has increased gradually, but is low as compared to previous Covid waves in the city limits," said Dr Wavare.
According to officials, the data for rest of the patients is unavailable.
There are a total of 2,554,215 beneficiaries above the age of 60 years in Pune district, according to the Co-WIN portal. Around 3,516,710 beneficiaries have taken vaccines from the age group of 45 years to 60 years, 11,541,067 between age of 18 and 45 years, and 632,244 between the age group of 15 and 17 years in the district. Over 0.6 million beneficiaries have received precaution doses in the district.
Dr Sanjay Patil, chairman, Indian Medical Association's (IMA) Hospital Board of India, Pune chapter, said, "Vaccines are important to protect even beneficiaries from severe illness."
According to the state health department, 996 fresh Covid cases were reported in Pune district, with 672 in PMC limits, on Sunday.
Dr Pradeep Awate, state surveillance officer, said as per the latest report from the BJ Medical College Pune, three patients of BA.5 and 2 of BA.4 have been found in Mumbai.
"All samples were collected from June 10 to June 20. Of these, 3 are men and 2 are women. The total tally of BA.4 and BA.5 patients in the state has gone to 54. Of these, 15 in Pune, 33 in Mumbai, 4 in Nagpur and 2 in Thane," said Dr Awate, adding that data could not be downloaded from Indian Council of Medical Research (ICMR) portal due to technical glitch.
"Maharashtra has recorded 6,493 cases on Sunday, higher than the actual. Five Covid deaths were also reported," he said.
Reported virus cases
Patients who received both doses– 704
Patients who received first dose – 11
Patients who did not take any vaccination – 71
Source: PMC
Close Story
Personalise your news feed. Follow trending topics