PIFF: Marathi director Tamhane speaks of effective processes during filmmaking
Feb 05, 2023 11:31 PM IST
Chaitanya Tamhane was delivering the 'Vijay Tendulkar Memorial Lecture' at the 21st Pune International Film Festival (PIFF)
According to Marathi film director Chaitanya Tamhane, effective people management and proper communication are critical in filmmaking as so many aspects revolve around these factors throughout the process.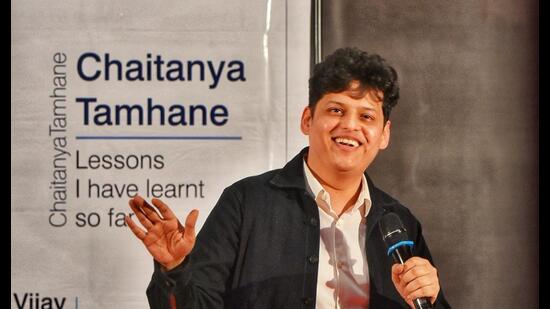 Along with the actors on the screen, every person behind the camera is as important, he said on Saturday while delivering the 'Vijay Tendulkar Memorial Lecture' at the 21st Pune International Film Festival (PIFF) organised by the Pune Film Foundation and the Maharashtra Government.
In the presence of Dr Jabbar Patel, director of PIFF, and Dr Mohan Agashe, trustee of PIFF, Samar Nakhate, chairman of the PIFF Selection Committee, interacted with Tamhane.
"As a director, if I want to capture what I see on camera, I have to make sure everyone who works with me understands what I have in mind. Everyone should be involved in the filmmaking process. The film's crew is equally responsible because the vibes, energy, and dynamics of the crew will influence the actors. The crew is in charge of providing creative space during the filmmaking process. It's teamwork, and if it doesn't happen with the crew's way of working, it will be problematic," Tamhane opined.
The young director stressed the importance of 'knowing oneself' when discussing the skills required for filmmaking.
"You must understand yourself and your working style. To perform at your best, you must understand your temperament as well as how to deal with pressures, interruptions, and feedback. I follow a Mantra that is 'I don't know the answer and I am going to find it through a process, which will give me my space. We have no choice but to do it ourselves," he explained.
Saying that he does lots of preparation before everything, Tamhane said, "Always remember two things: test test test...prep prep prep. This will give you the satisfaction to make things right. Conceptualisation, scripting and production process of the film should be done properly along with rigorous preparation beforehand."
Tamhane also encouraged budding filmmakers to have faith in themselves.
"Many people will come in your path and tell you that you are wrong, and there will be many difficulties, but it is important to believe in oneself and continue to expand one's knowledge base as a filmmaker," he said.
Understanding space is important in cinema: Shaji Karun
Veteran cinematographer and director Shaji Karun underlined the importance of understanding space while making cinema as time can travel back and forth in the medium.
Karun, 71, was speaking at the "Thinking Images" master class at the 21st Pune International Film Festival.
Samar Nakhate spoke with Karun, whose film was the most recent Indian feature to win awards at the prestigious Cannes Film Festival.
"Cinema is moving and there are no still images. Understanding space is important while making cinema. Space can be used in different ways like colour and music," Kollam-born Karun said stressing the importance of images in cinema.
He also said that cinema was not still and it is moving and is a medium.
"Image is an answer for motion. The focus should always be given while creating images as they have value. Once an image is created for cinema, it becomes history and you cannot remove it," Karun said.
"It is important to observe the lives of those around you. Imagination is essential for survival in the industry, "he said while advising young directors.
On Sunday, well-known Bollywood actress Madhuri Dixit and her husband Dr Shriram Nene attended the famed film festival.