Pune's Civil Court underground station to get maximum natural sunlight
Jan 18, 2023 11:36 PM IST
At 108
At 108.59 feet, Civil Court Interchange occupies pride of place as India's deepest underground metro station however it has a special provision to get maximum natural sunlight unlike many others of its ilk. This in turn will help save a lot of energy.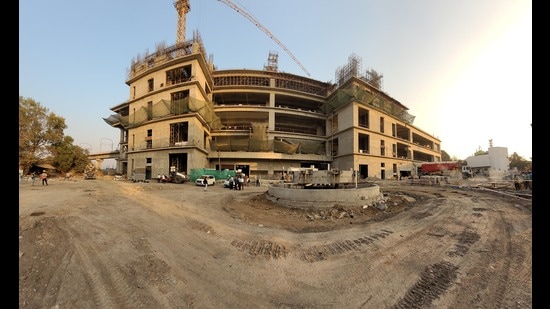 Maharashtra Metro Rail Corporation (MMRC) managing director Brijesh Dixit said, "At 108.59 feet, Civil Court is India's deepest underground metro station. After crossing this station, the metro passes below the Mutha river." The metro station is almost ready and a central team has been invited to carry out the safety audit. All work is expected to be complete by March this year after which it will be opened for the public.
Dixt said, "Usually, all underground stations do not have direct access to sunlight. Some underground metro stations have the provision to get natural sunlight but the opening is very small. Whereas we have ensured that the Civil court underground station gets maximum natural sunlight. We are covering the opening with glass and the station will get sunlight throughout the day. The entire underground station is open to the sky."
The station will have eight lifts and 18 escalators for commuters. The total area of the station is 11.17 acres and there are seven entrances to it. The elevated and underground lines interchange at this station. Commuters can change lines at this station.
Dixit said, "The Hinjewadi to Shivajinagar metro which is being implemented by the PMRDA is also coming to the Civil Court station. The Hinjewadi to Shivajinagar metro line is just 150 metres away from Civil Court station. Commuters will need to cross 150 metres of skywalk to get to the other line. It is seamless travel, and commuters can easily travel from one station to another. The Metro too has kept an underpass for Civil Court. Commuters will not need to cross the road and will be able to use the underpass to enter Civil Court metro station."