Rapido closes down its bike-taxi services in Maha from today
Jan 14, 2023 12:15 AM IST
After months of the legal tussle between Roppen Transportation Services Private Limited (Rapido) and the state government in the Bombay high court (HC), Rapido finally announced that it will stop all its bike-taxi services in Maharashtra from 1 pm today
After months of the legal tussle between Roppen Transportation Services Private Limited (Rapido) and the state government in the Bombay high court (HC), Rapido finally announced that it will stop all its bike-taxi services in Maharashtra from 1 pm today. In the hearing held at the Bombay HC today, a division bench of justices S G Dige and G S Patel advised Rapido about the rejection of its claim with costs if it did not agree to close down its services. Thereafter, the company announced that it will stop all its bike-taxi services in the state starting 1 pm today.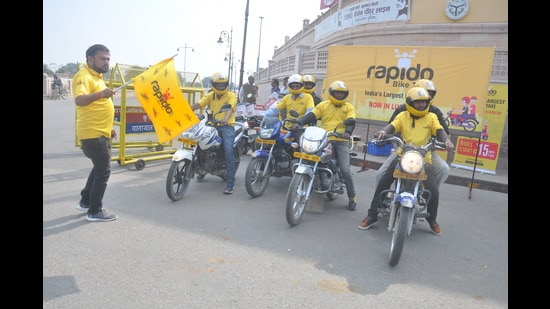 Law firm DMD Advocates appeared before the Bombay HC on January 13 on behalf of Rapido in a civil writ petition challenging the December 22, 2022 order passed by the Pune Regional Transport Authority, rejecting Rapido's application for an aggregator's license with regard to bike-taxis and auto-rickshaws on grounds that there is no bike-taxi policy in Maharashtra.
The statement issued by Rapido read: "At the hearing held today (January 13, 2023), the state of Maharashtra appearing through the advocate-general, informed the honourable Bombay HC that on January 12, 2023, the state had constituted a committee to examine matters of policy concerning bike-taxi operations. Further, that show-cause notices had been issued to both Uber and Ola in relation to their ongoing bike-taxi operations in the state of Maharashtra. Rapido filed an affidavit with the honourable Bombay HC during the hearing of January 13, 2023 setting forth substantive compliance with the requirements of the Aggregators' Guidelines 2020."
"In view of the submission of Rapido that it has secured licenses in states where policy frameworks are in place, including pro-tem licenses, Rapido was directed by the honourable Bombay HC to file a further affidavit to place on record such licenses and supporting material (policies) by Tuesday, January 17, 2023 and the matter has been directed to be placed for further hearing on Friday, January 20, 2023. In the interim, the honourable Bombay HC has accepted Rapido's 'without prejudice' undertaking to discontinue operations in the state of Maharashtra, until January 20, 2023. All rights, remedies and contentions of Rapido are kept open to be heard on January 20, 2023," the statement further read.
Earlier, the Bombay HC had instructed the state transport department to reconsider Rapido's application for a valid license/permit for its bike-taxi operations but the Pune Regional Transport Office (RTO) rejected Rapido's application in December 2022.
Meanwhile, all auto-rickshaw union members and auto-rickshaw drivers in the city celebrated today as the Rapido company announced closing down of its operations. "From the last two years, we have been fighting illegal bike-taxis and today, we have got justice. All that we have suffered right from the strike, the police lathi charge, arrest and now this legal fight, everything is now satisfactory for us," said Keshav Kshirsagar, president, Baghtoy Rikshawala auto-rickshaw union.