Riverfront visit dropped from G20 delegates' itinerary as PMC readies only 100 metre stretch
Jan 16, 2023 11:51 PM IST
The civic body was hoping to have the 300 metre stretch of the Mula-Mutha RFD project ready by January 10 in order to showcase it as an ambitious infrastructure project
While the Pune Municipal Corporation (PMC) had planned to complete 300 metres of the Mula-Mutha riverfront development (RFD) project as a sample before the first G20 meeting, the civic body has been unable to meet its target and has completed only 100 metres out of the proposed 300 metres. Owing to this, the PMC had to drop the planned foreign delegation visit to the project as well.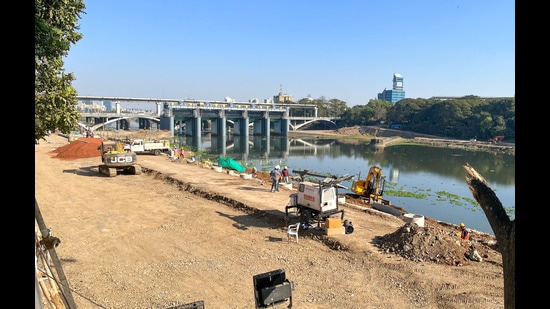 The civic body was hoping to have the 300 metre stretch of the Mula-Mutha RFD project ready by January 10 in order to showcase it as an ambitious infrastructure project during the first G20 Infrastructure Working Group (IWG) meeting in Pune under the G20 India Presidency. However, it was not able to meet its target before the said meeting which commenced on Monday and will continue through Tuesday.
Project in-charge Yuvraj Deshmukh said, "We tried to complete construction of the 300 metre stretch but it has been slightly delayed. A 100 metre stretch is ready while the remaining 200 metre stretch will be ready next week. The material for building the 300 metre stretch has been made available now. It is true that we were planning to invite the delegates but we have now kept a presentation of the RFD project at the exhibition centre."
In the past, the PMC administration has termed the RFD as one of its ambitious projects. "It is India's largest riverfront development project, spanning 44 kilometres along the river. The actual groundwork for the same began in two stages," the PMC presentation informs.
According to municipal commissioner Vikram Kumar, B G Shirke Construction Technology Pvt Ltd has been tasked with completing the stretch from Sangam bridge to Bund garden, while J Kumar Infra Projects Ltd is working on the stretch between Bund garden and Mundwa.
City engineer Prashant Waghmare said, "We are using the maximum natural resources to maintain ecological balance. There will be walkways along the riverfront where residents can walk, exercise, and relax."