Sharad Pawar is an experienced leader whose contribution can't be ignored: Shinde
Jan 21, 2023 09:15 PM IST
Opposition leader Ajit Pawar, NCP leader Dilip Walse-Patil and various Congress and NCP leaders were present for the meeting which was held in Manjari
Maharashtra Chief Minister Eknath Shinde on Saturday praised Nationalist Congress Party (NCP) supremo Sharad Pawar, saying his contribution to the cooperative sector cannot be ignored.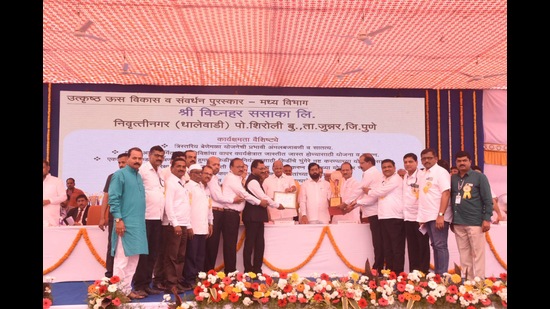 Shinde was speaking at the 46th annual general meeting of the Vasantdada Sugar Institute (VSI) in Pune, where Pawar shared the dais with him. Pawar is the chairman of the VSI.
"Pawar is an experienced leader at the state and national level. His contribution to the cooperative sector is huge and cannot be ignored. He often calls me over the telephone to make suggestions and give advice. He has also played an important role in the agriculture sector and has introduced several new technologies to the farmers," said Shinde.
Opposition leader Ajit Pawar, NCP leader Dilip Walse-Patil and various Congress and NCP leaders were present for the meeting which was held in Manjari.
Shinde said that the Vasantdada Sugar Institute has played an important role in the sugarcane industry. Maharashtra government will do the needful help to the institute. Maharashtra government will help to get 900 harvesters for farmers.
Sharad Pawar said, "Sugar industry needs to concentrate on hydrogen production. Hydrogen will be the need of the hour in futire when it comes to vehicle fuel. The sugar factories have enough infrastructure if they concentrate on hydrogen production, it will help sugar industry to stand in the global market."
Talking to reporters on the sidelines of the event, Shinde said the state government will provide good infrastructure and subsidies to investors seeking to set up industries in the state
Shinde said, "Though the opposition is making allegations about various investment proposals in the state, very soon citizens will see that they will all be executed. I met various leaders across the world in Davos and signed various MOUs with the corporates. Investors in Davos expressed interest in India and Maharashtra and are confident that we are investor-friendly as there is a lot of scope for investment."