Startup Mantra: Giving pharma firms tech advantage at affordable prices
Updated on Nov 28, 2022 04:15 PM IST
Maypharm is helping Indian companies to take their advanced technologies and products to Latin America at affordable prices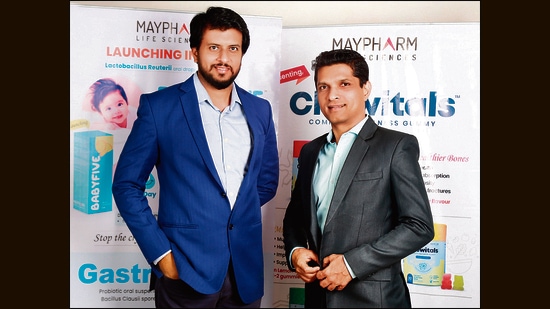 Did you know that a new-age healthcare company Maypharm Life Sciences, founded by Sameer Kolhe and Ameya Budukh, helped the largest vaccine manufacturer to take the first step by getting GMP approval for 8 manufacturing facilities. With core competencies in areas of business planning, in-licencing of technologies and products, engineering designing and operational excellence, portfolio selection and business development, Maypharm is helping Indian pharmaceutical companies to take their advanced technologies and products to Latin America at affordable prices. The healthcare startup has now set its foot in the India market with 15 products in the health and wellness segment and specifically catering to Maharashtra region.
The first step
Coming from a family of doctors, Sameer chose a different path when he opted for BPharmacy in Pravara Rural College of Pharmacy. Thereafter he did his MBA from Pune University (PUMBA) and worked up the corporate ladder to become the head of corporate strategy and international business for a multinational pharmaceutical company. Having tasted his share of success for almost two decades, both as a strategist and a team builder, Sameer ventured into a startup Maypharm Life Sciences Private Limited in 2017 with a vision of creating an organisation focused on value creation in the lifesciences sector. Sameer was joined by Ameya, a biotechnologist, MBA in marketing and having experience in portfolio development in pharmaceutical industry and, also a close friend.
Sameer said, "Maypharm was initially floated by my three ex-colleagues in February 2016, who later quit the company. While I was undergoing a training programme at the previous organisation, I realised it was the right time to start my second innings. I shared my plans and vision with Ameya and we started working together from September 2017. Since we both understood only international business, it was clear to us that we would work in that domain only. Interestingly, most of the companies who were apprehensive about the Latin America market did not really understand what we did in 'market authorisation' as a business. Everybody questioned us where is the asset, however, they did not realise that product registration in countries like Brazil itself is an asset. Hence, in the initial days we struggled with investments."
"We had brainstormed and concluded that we will work only in tough markets, which are highly regulated and where most pharmaceutical companies have struggled to enter. To get started, we began offering our services in one of the most difficult markets like Brazil. Brazil is the fifth largest pharma market globally and very lucrative. If you take any top pharma company, Brazil features in their top three potential markets but they are unable to crack it. This failure is due to multiple reasons like legislative and regulatory barriers, language and cultural barriers, time difference and a completely different regulatory framework for different healthcare products," said Sameer.
"Within Brazil too, the top companies are focussed only on domestic market. They are not present even in neighbouring countries. This mindset barrier is one of the reasons why most pharmaceutical companies have failed even on the B2B business front," Ameya said.
Proof of concept
Recalling the initial efforts to survive in the market, Sameer said, "We did two things. We carved out a service-based business model where we would not require investment; and a consulting model which we never wanted to do in the long term."
"We thought let us offer our concept as a service to companies who want to enter the Brazil market and check if the idea works out. That was like a proof of concept for us. Under the consultancy model, we targeted companies who were willing to invest in new facilities in Brazil. This model, which we wanted to avoid, got good traction, and consumed most of our bandwidth. But it also helped us gain our first few customers. including the world's largest vaccine manufacturer. They were struggling to get their vaccines approved in Brazil for almost 18 years, but we helped them deliver the project in just two years. The vaccine maker got Anvisa (Brazilian health regulatory agency) approval for five vaccine manufacturing facilities and three API (active pharmaceutical ingredients) facilities," said Sameer.
With this success, Maypharm got the attention of major companies. Ameya said, "One of the companies we were having discussion with suggested us not to charge for service but to co-invest, which would mean our value of service would be 20 per cent investment. We liked the idea and signed two projects with two companies from Bengaluru."
'One product, one company' policy
Sameer and Ameya had not only successfully identified the market opportunity in Brazil, but also knew what not to do. The entrepreneur duo stated that most Indian companies have a conflict of interest while selling products.
"We decided to have 'One product, one company' policy. Our portfolio must be intelligent not only from profitability perspective, but also integrity. For this to happen, we had a critical task of identifying products. Since we are not a manufacturer, we had to identify products that will do better in the market, and for that we are dependent on better pricing and product lifecycle. How to develop a product, what happens to it, how to sell it is completely our responsibility," Sameer said.
"We also carved out a certain portfolio of segments like oncology, where we focus only on service model through which we keep getting some revenue. In this model, the manufacturer or a Brazilian company invests and we as service provider do matchmaking, selection of portfolio, project management, regulatory filing, commercial strategy to make the project successful," said Ameya.
Investor experience
Sameer shared his journey while raising funds. He said, "I knew several investors from my earlier company network. Ninety per cent of them did not even give me a meeting, while others with whom I shared cordial relations, met but did not respond later. This experience opened my eyes. Later, I thought maybe I am knocking the wrong door. We went to banks, chartered accountants who had investors as clients, etc., but we did not get any success. In September 2019, we got a high net worth individual (HNI) investor, who also had a pharma trading family business, and invested ₹15 crore in our company."
"We invested those funds in our own portfolio and recruited a small team of professionals. We also incorporated a subsidiary in Brazil and now we have deep presence in both the largest markets on South America — Brazil and Mexico. Our strong foothold in these prime markets with end-to-end support from filing to distribution of products provides us unique strength to cater the whole of Latin American region," Sameer said.
Market risk mitigation – The India story
During pandemic, most countries had relaxed their regulatory barriers to ensure medicine availability in their respective markets. This was an alarm bell for Maypharm, as their business moat was compromised. Realising the need to diversify, Sameer and Ameya identified potential markets like Tanzania, Taiwan, Russia, Middle East and North Africa (MENA) countries and India. Before this, they were trying to enter the other Latin American countries market, but failed to do it.
Sameer said, "We had got initial traction in Peru, however, we decided to evaluate markets out of Latin America. India is offering big opportunity and huge growth in the pharma sector. The Tier 2-3 and satellite towns are growing, health awareness has increased and there is a shift in the way people are buying medicines."
Maharashtra market
While analysing the India market, Maypharm team zoomed in on the Maharashtra market with a focus on the health and wellness segment.
On how they chose the market and segment, Sameer said, "The market was not new to us. We were clear that we will not get into the chronic diseases segment. Health and wellness was a grey area and it was convincing for our investors as well. We launched the Maharashtra operations in February 2022. We will be having a team of 40 medical representatives with total 15 products in the next six months. At present we have onboarded 11 medical representatives and launched eight products. We expect the annual revenue from India to be around ₹10 crore in the next nine quarters."
Future plans
Ameya and Sameer said, "We have completed our portfolio selection for the next three years. After selecting the products, we take about five quarters to file or 10 quarters to get the products registered (companies usually take 3-5 years) and during the eighth or ninth month we can sign the licencing deal. This cycle is very critical. Pandemic had affected this cycle and for six quarters we could not file a single product. We have recovered from that setback and in the next three months we have nine filings coming up. For about 80 per cent of our products, we are in discussion with major Brazilian companies. We will remain exclusive suppliers of these products and Brazilian companies will take it to the market."
Their other plans include working with technology-driven pharmaceutical, probiotics, herbal medicine, medical devices companies and introduce advanced healthcare products in Latin American countries. Build portfolio of 35 to 40 commercialised products in Brazil and Mexico each by 2025.