Jhajjar's Bahadurgarh becomes new hotspot as Haryana sees 2nd highest single-day spike
Apr 30, 2020 11:49 PM IST
Nine vegetable vendors, pharmacist's wife test positive in Bahadurgarh town
Haryana recorded its second highest single-day spike in Covid-19 cases and reported fourth death due to the infection on Thursday.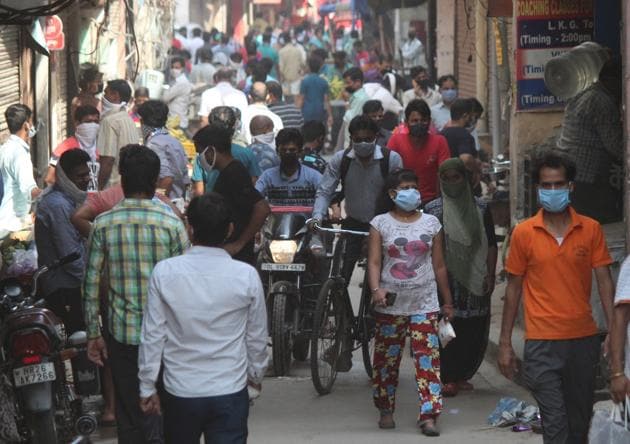 28 new cases — 18 from Jhajjar, seven from Faridabad and three from Gurugram — took the state's tally to 339.
The death was reported from Faridabad. According to senior doctors, the 68-year-old male patient, who was admitted to ESI hospital, was diabetic and suffering from chronic obstructive pulmonary disease, besides hypertension.
Jhajjar's Bahadurgarh has turned into a new virus hotspot after 17 cases were detected there on Thursday. All new patients have been sent to isolation ward at PGIMS, Rohtak.
These include 16 people associated with Bahadurgarh vegetable market, who frequently visited Delhi's Azadpur Mandi and a nurse.
The seven fresh cases of Faridabad include one with Tablighi Jamaat link, the wife and son of an already infected person who was associated with a private hospital, a woman social worker engaged with a Delhi-based organisation and a 72-year-old man who had been visiting Delhi till recently.
In Gurugram, among the three new positive cases, two are said to be employees of a private hospital while the third patient is a woman, whose husband had on Wednesday committed suicide. The reasons behind his extreme step were being ascertained by the local police.
The Thursday's spike is the second highest in Haryana since March 16, when the first Covid-19 case was reported from Gurugram. It was on April 7 that Haryana witnessed 33 positive cases – all of whom were either Tablighi Jamaat attendees or their contacts.
10 DISCHARGED, TOTAL CURED 235
Meanwhile, with the discharge of 10 more patients — four each from Nuh and Panchkula and two from Gurugram — the number of total cured persons in the state swelled to 235. The emergence of fresh cases on Thursday brought down the recovery rate of 73% to 69%.