Bollywood, and not just the political class, has let down Padmaavat | Barkha Dutt column
Updated on Jan 26, 2018 07:39 PM IST
Irrespective of whether or not Padmaavat is a fine film, by refusing to publicly take on the frenzied bigotry of the Karni Sena, Bollywood has opened itself up to similar lunatic threats in the future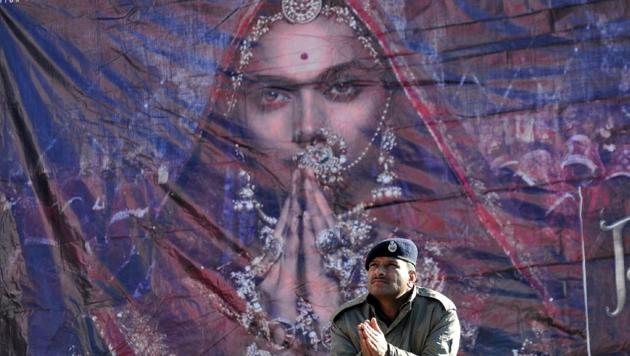 Much has already been said on the sins of omission and commission by the state governments of Haryana, Rajasthan and Gujarat that made it possible for mobs to assault a bus carrying school children and openly instigate violence against the actors of Padmaavat. Nor has the Opposition been unequivocal in criticising the frenzied bigotry of the self-appointed Karni Sena, with individual Congress and BJP leaders ( General VK Singh; Digvijaya Singh) even uniting across the trenches to give it legitimacy. The political patronage of these goons, which has ranged from tactical support to gutless ducking, has been slammed universally.
But there is another dimension to the Padmaavat debate, and that is the tragic and fearful unwillingness of the Hindi film industry's own stalwarts to stand up and be counted. This was the moment for Bollywood to come together against extortionist pressure and to unionise against the by now familiar circus of imagined grievances and public threats. If the biggest stars of India — arguably with more social influence and following than any politician — would have marched through the streets of Mumbai or worn black bands in protest — or if nothing else, co-ordinated a mass Twitter agitation — would the state governments and the police not have been under severe pressure to contain the thugs?
And this united rage should have been shown almost a year ago, when the sets of Padmaavat were first targeted by hooligans. What explains the outspoken comments on Padmaavat by movie stars from southern India when contrasted with the craven and cowardly silence of most of the Mumbai-based icons (save some honourable exceptions)? Deepika Padukone has certainly shown admirable and dignified strength, amid the worst sort of abuse and threats. But how many of her colleagues have openly stood shoulder-to-shoulder with her when she most needed it?
Veteran actor Sharmila Tagore told me that the reason the industry gets repeatedly coerced into capitulation is because "we never speak in one voice". She accused the industry's "big boys of taking problems straight to ministers instead of fighting them united".
I have repeatedly had the same arguments with friends who are directors, producers and actors. Not just about why they don't resist blackmail more firmly; but also about why, as leaders of civil society, they don't take more public positions on key issues unlike how Hollywood does. They always point to the trauma of the kind the Padmaavat team has endured to underline how much is at stake and how vulnerable they are to random attacks.
I'd argue it differently. If commerce is privileged over principle every time, the film industry should accept that it will remain a sad little supplicant to the whimsical diktats of one or the other offended group. Don't all of them look on at the shameful saga of the past few months and feel they've had enough? Won't this be the tipping point for the industry to grow a spine and tell these pathetic bullies where to get off? Else they will continue to be at the receiving end. Today it's Padmaavat; tomorrow it will be someone else.
It is unfortunate to see truly iconic superstars quiver in diplomatic silence. They don't seem to be able to see the downside of being constant apologists. And this includes the ones with cult following — even India's most beloved star, Shahrukh Khan. In 2015, when he turned 50, he did a handful of interviews with some of us, in which he challenged hatemonger trolls who would mock those with an independent opinion with threats of 'Go to Pakistan'. He bravely took on violence in the name of beef politics by saying "Our religion cannot be defined or showed respect to by our meat-eating habits. How banal and silly is that".
He was assertive and angry and articulated himself with gutsy brightness. "No one can question my patriotism". He did a similar interview with a colleague from another channel. Of course what followed played to script; he was mercilessly hounded and threatened. Tragically he took back his unambiguous words and uncharacteristically blamed us for supposedly distorting his words. (The interviews are online; you can watch them and make up your own mind on whether even a syllable was twisted.) To me the entire episode only illustrated how our bravest and best are unable, or unwilling, to be unfettered. And how they are left alone and isolated to fight their battles compelling them to be even more silent the next time around.
I don't care if Padmaavat is a fine film or a terrible film. Those who did not publicly take a stand have opened themselves up to a similar set of lunatic threats in the future. Politicians have let down Padmaavat; but so has the film industry.
Barkha Dutt is an award-winning journalist and author
The views expressed are personal