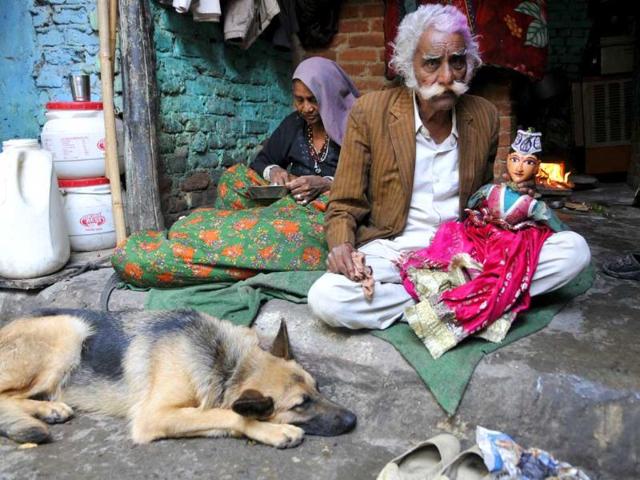 DDA must generate trust among slum dwellers
Metro Matters
UPDATED ON MAR 03, 2014 07:29 PM IST
If you remember the passages in Salman Rushdie's celebrated book Midnight's Children where Saleem Sinai, the protagonist, passes through a ghetto of magicians. You can visit the place yourself. But the Capital's Kathputli Colony won't be there for long.
The wandering artists — puppeteers, acrobats, magicians and fire-breathers — had settled on what was a wasteland in the 1950s. Over time, others also moved in. Now it's time for them to leave the colony for one-room tenements in a transit camp in Anand Parbat a few kilometers away.
The shanties will soon be razed to give way to highrises. At least 2,800 families of Kathputli Colony, who have their names on the government's list, will be able to move back into plush homes on the same land, the authorities have promised.
Although Kathputli Colony is going to be in-situ development, Delhi's first biggest project of its kind, the residents can't get over their fears. Kathputli Colony is now a prime piece of real estate within a short commuting distance of Connaught Place by a direct Metro link.
Delhi's 40-year-long history of slum removals and relocations do not exactly bring back happy memories. Many in Kathputli Colony recall stories of the Turkman Gate relocation during the Emergency years of 1975-76 when, amid police firing and brutality, a large number of slum dwellers were herded from the Walled City to Seelampur which was then an inhospitable marshland across the Yamuna.
Slum relocation in the subsequent years may have involved less of police action but the rest of the story has remained unchanged. Time and again, shanty owners were evicted from their highvalue land in the city to be compensated with small plots in Bawana or Narela in the outskirts of Delhi.
While the evicted now have legitimate ownership of land, such ex-situ rehabilitation uprooted them from their life by dumping them far away from their workplaces.
Besides, the new settlement colonies are not great places to live in. Most are built on mosquito-infested marshland, devoid of basic services such as regular water and power supplies, roads, schools and healthcare centres. Residents take hours to commute to the city for work and half their daily wages go in paying just bus fares. Many end up losing their jobs.
In-situ regularisation of slums is a more humane approach to rehabilitation. The DDA has already announced regularisation of 22 slum clusters without dislocating its residents. Under the new Master Plan, it has also shifted from its previous policy of developing the slum areas on its own to involving private developers who would be willing to do the job for a profit by developing and selling 35-40% of the real estate at market price.
Kathputli Colony is the first of the in-situ projects under the Public Private Partnership model. The flats will built using pre-fabricated technology and should be ready within 18 months of the developer getting possession of the land.
The slum dwellers will get ownership rights of the flats with a lock-in period of 15 years, during which they cannot sell the property.
While a section of slum dwellers resent the participation of private players, it is beyond the capacity of the DDA to fast track so many projects on its own. The PPP model of development is supposed to involve private players and incentivise them to deliver quick results.
But instead of pushing the plan down people's throat, the DDA should opt for a more participatory approach. For instance, most residents don't want to live in high-rises because they can't afford to pay for the cost of running the elevators.
They still do not know who all are eligible for flats under the new scheme.
The DDA is yet to address these issues.
Having finally acknowledged the pain of dislocation, the DDA cannot be seen as secretive and fuel mistrust. After all, much more than investment opportunities, these in-situ projects are about rebuilding lives.
Close