Need to pay more attention to fire safety in residential colonies
Jul 15, 2017 11:39 PM IST
In several colonies, gates erected for security reasons are locked in the night, delaying access to fire engines in an emergency .
The recent fire at a residential building in East Delhi, which led to the death of four persons, is a grim reminder of the price that we pay for ignoring fire safety. And I refer here particularly to residential fires.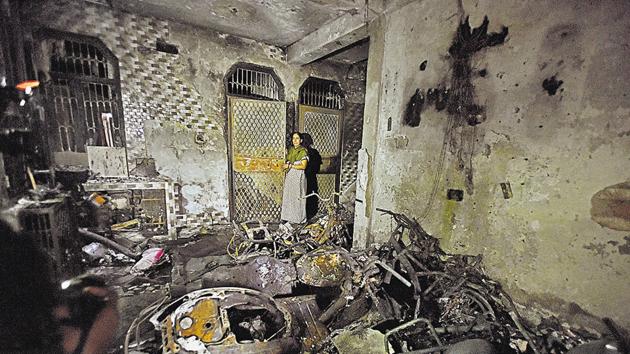 In fact the latest data on fire accidents in the country, put out by the National Crime Records Bureau (Accidental Deaths and Suicides, 2015), should give us enough cause for concern. There were as many as 18,450 accidental fires in the country during 2015, resulting in 17,700 deaths and 1,193 injuries. About 42 per cent of these deaths were on account of fires in residential buildings or dwelling units.
Another alarming information from the data is that fires due to electrical short circuits have gone up sharply, by as much as 40.9 per cent in the last one year. The recent residential fire is also reported to have been caused by an electrical short circuit.
Even though the single largest cause of fire in the country is cooking gas cylinder/stove burst (3390 cases during 2015) , the second largest cause is electrical short circuit. And accidents caused by short circuits have gone up from 1764 in 2014 to 2485 in 2015. While the National Disaster management Authority, Government of India, in its hazard profiling of New Delhi, says that 70 per cent of the fires in Delhi were on account of short circuiting caused by illegal connections and low quality of wiring, a fire audit of 50 DDA colonies last year by the Delhi Fire Services, points to overloading of the electrical systems as one of the causes of short circuiting and fire.
DFS points out that these colonies have become highly vulnerable to fire accidents on account of mindless expansion of the buildings, particularly to make way for commercial establishments. This obviously increased the load on electrical wirings in the buildings, thereby leading to short circuits and fires.
Poor planning, encroachments, sub-standard electrical wirings and fittings and absence of safety consciousness have all made many residential colonies in the country, highly susceptible to fire. Yet, precious little is being done to make residential buildings, fire safe. Worse, many of them do not have even basic facilities for fighting a fire.
While dealing with a fire, time is one of the most crucial factors. It's for this reason that the efficiency of a fire service is measured on the basis of its response time. But at many of these locations, narrow lanes and by-lanes, low hanging electrical wires and encroachments on public space, make it extremely difficult for fire engines to reach the spot.
In several colonies, gates erected for security reasons are locked in the night, delaying access to fire engines in an emergency . Absence of civic sense in the residents too, add to the problem. In East Delhi, rescue operations were delayed by half an hour because the haphazardly parked vehicles on the road blocked the access to fire engines..
It's time our civic authorities, town planners and fire service officials paid more attention to fire safety in residential colonies and ensured that they have at least some rudimentary fire safety equipment and there is proper access to fire engines. It is also important to educate residents on dealing with a fire. This will go a long way in saving lives.
Similarly, residents of housing colonies should take the help of fire safety officers, identify fire hazards and take appropriate measures to reduce the risks. Most important, they must use only quality electrical wiring (it is mandatory for cables and wires used for household purposes to have ISI certification) and equipment and do not overload them. Installation, maintenance and repair work of electrical wiring/gadgets should always be entrusted to qualified persons.
---