Why die for Ram Rahim? Read the MSG in the mayhem
Aug 28, 2017 10:23 PM IST
Who is this man for whom these people die? A man who breached the trust of his followers, and raped them, repeatedly. A man who dresses like a joker, spouts inanities as sermons, and makes movies that revel in stereotypes
Where do these people come from? The ones who gather in solidarity with a man who calls himself the Messenger of God and heads that sect called Dera Sacha Sauda headquartered in Haryana's Sirsa. The ones who sleep on pavements, carrying children in their arms and wombs, even in Panchkula where a court hears criminal cases against him. The ones who hear a soothing 'sargam' in the screeches that the guru passes off as singing. They see nothing amiss when he calls himself a fakir, runs a business empire, and stands for everything materialistic. The ones who look for solace from everyday struggles and injustices. The ones who take bullets for him.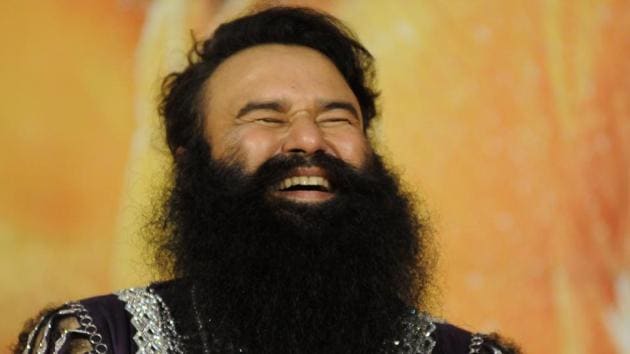 Who is this man for whom these people die? A man who breached the trust of his followers and raped them, repeatedly. Accused also in the murder of two men who exposed these rapes. A man who finds it utterly normal to dress like a joker, spouts inanities as sermons, makes movies that revel in brutal stereotypes, and boasts and lies at an assembly-line pace. A man who knows what he's doing. A man who knows his audience.
This man calls himself Dr Gurmeet Ram Rahim Singh Ji Insan, using the suffix 'Insan' (human) to stress that he's actually not human. He's superhuman, but humble enough to call himself human! He also claims an exclusive right to divinity that helps him shoot entire movies in two weeks, but often suffers from backache so he cannot come to courts for hearings.
Who are the people who form his inner circle? The ones whose jobs and businesses depend on his success. The ones who argue that the guru is the best ever in 32 sports, that he can cure diseases whose cure has not yet reached modern medicine, that he may call himself only a messenger but he indeed is God.
The baba's latest brand name for himself is MSG, a moniker formed by using the names of the three dera chiefs so far — M for Shah Mastana, S for Shah Satnam, G for Gurmeet Ram Rahim. MSG is also shorthand for message. Is he being subversive? We must get the hint. We must look for the message in MSG and his ilk.
Are his followers all rural, illiterate, dumb idiots?
The easiest theory on this dera and some others is that they appeal to the economically weaker sections, or to those excluded from caste hierarchies. That's what the urban elite venting on Facebook — particularly those who do not go to their own, relatively sophisticated versions of this baba — want to believe. But the truth is never singular.
The question to ask is, how is this phenomenon different from the blind faith ignited by a wide variety of such characters across spectrums — from the Yamuna-ravaging, honey-dripping teacher of the Art of Living; to the tummy-churning seller of yoga and herbal noodles who would behead certain people if he could; to the Twitter-happy types who are no better than professional trolls engaged by political parties.
Access to power is the key link, and also the key differentiator.
While the "refined" sects give a sense of purpose and chances of networking to the elite, a dera headquartered in Sirsa, in this case, provides an institutional sense of security — even competitive superiority — to those who know that the systems don't work for everyone.
These may include depressed castes, of course, but also middle-class trading segments and service-class young men from the upper castes who find it tough to negotiate the class divide that wants to keep them boxed away from the fruits of an open market. He also fills the vacuum left by politicians who have retreated only to electoral politicking, leaving welfare – even basics such as affordable education and healthcare – to such babas, who now provide coaching in sports too!
And when the system bows to him — quite literally in the form of kneeling ministers at his dera — the devotees believe his powers can override the system too. That's what gets him followers from the rich classes, too, that want the fruits of his power.
The baba's bling, his rockstar-ness, his grammatically horrible English lyrics, his garish costumes that symbolise careless abandon, and his superhuman attributes — all of that makes them feel empowered. He gives them all kinds of role models, idols rolled into one. He is the Everyman's Hero who does not conform. Because, he is God. Their God. The System unto Himself. Academically speaking, he is the new form of State.
Many among the thousands who gathered in Panchkula this week believed his political clout — going right up to the biggest demigod of all right now — would mean no one would shoot at them. And if they did, 'we would die at the hands of a system that never gave us space anyway'!
It is the same old system that our new ruling classes rail against and claim to despise. That is what makes religion, or modern quasi-religions and politico-religio-cultural movements — and politicians who use this ruse — such potent multipliers of forces. It's a case of exclusive ridiculousness versus exclusionary ridiculing. Those now dehumanising the victims – as if they deserved to die because they believed in a demigod – are only proving their point. It's not all that simple, you know.
Writer tweets at @aarishc
"Exciting news! Hindustan Times is now on WhatsApp Channels
Subscribe today by clicking the link and stay updated with the latest news!"
Click here!