A change waiting to happen
Jan 19, 2023 09:14 PM IST
Shubman Gill and Ishan Kishan opening for India can't be a pipedream after their double hundreds.
The latest video on the BCCI website has double hundred stalwart Rohit Sharma navigate the conundrum of failing to accommodate Ishan Kishan in the side after he had scored 210 in Bangladesh. "Ishan, you didn't play for three matches despite scoring a double hundred," says Sharma, with newest double centurion Shubman Gill to his right. "But you are the captain," Kishan is firmly tongue-in-cheek. "Do you like batting at No 4?" Sharma goes again. Kishan says: "I really like it. There is nothing not to like."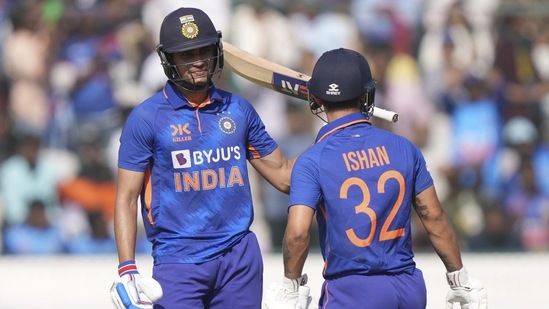 It was all banter of course. But it can't be fun for Kishan or any other younger player to be waiting for a chance despite proving long back they belong at this level. There are several permutations and combinations at play, primarily because the supply is more than the demand. That, and the unsaid compulsion to play Sharma, Virat Kohli and KL Rahul whenever they are available, creates unique dilemmas where Kishan or Gill can't be fitted into the same team unless there are multiple vacancies. What now though?
Kishan and Gill, both best suited to open the batting, have one-day double hundreds to their names now. Sooner or later—maybe not in the coming months, not in this World Cup too perhaps—India have to flag off this transition, like they have in T20s. Because the last five weeks have been an emphatic intro, rather a re-intro of Indian cricket's young and bright, one that instantly evokes comparisons with those who are approaching the twilight of their careers. Experience matters. But so does intent. So when you have 23 or 24-year-olds scoring double hundreds and still not being regulars, you can't help but ponder over the grounds of selection.
And this was no slapdash double hundred from Gill. This was an early affirmation of Gill's thirst for big hundreds, pushing himself to get a double on the back of a century against Sri Lanka in a season where he is averaging 67 with a strike rate of 112.29. "This knock means a lot to me," he said after Wednesday's match. "I could not convert in the first ODI and third game (against Sri Lanka), I was looking to get a big score but it didn't happen. Once I was set, the focus was to score as many runs as possible."
The innings at Hyderabad also underpinned Gill's ability to manoeuvre tricky passages of play. "With the extra fielder inside the circle (in overs 11-40), we see the other teams pushing in the middle overs. Even when wickets were falling, I wanted to show intent to the bowlers because it's very easy to bowl dot balls if the batter is not showing intent.
"I was itching to unleash myself but with wickets falling at regular intervals and the message from the dressing room was that I have to bat till the end. So, that is why I had to play in a safe manner so that a set batter doesn't get out. If I had got out, it would have been difficult for the lower order batters to hit boundaries."
The little tweaks here and there, instincts that are developed over time, seem almost second nature to Gill. You could see it in 2021, at the Gabba, where he set up that epic chase with a calming 91. The same instincts kicked in on Wednesday too, which is why Gill was able to delay his charge but still get India to 349. "First I decided to go hard in the last five overs but with Washy (Washington Sundar) getting out in the 45th over, the message was to go hard in the last three overs," he said. "When I hit a couple of sixes (off Tickner in the 47th over), I decided to go big."
Not just big, Gill didn't hold back even though he could have missed out on his double in the quest to clear the rope. And often, it's this type of unabashed batting that adds the element of consistency. "Consistency is very important for me, it's the key to everything," said Gill. "As a batter that is what I strive for in any format. It feels good when things you are doing repeatedly are paying off."
His self-assurance is among many qualities that make Gill look wiser beyond his years. Kishan on the other hand is the restless kid, hardwired to maximise the possibility of every ball if given the rope. In their opposing personalities is distilled a left-right batting philosophy that India are not unfamiliar with. Now that the potential has been rubber-stamped by individual double hundreds in Chattogram and Hyderabad, the chances of a confluence can't be a pipedream anymore.