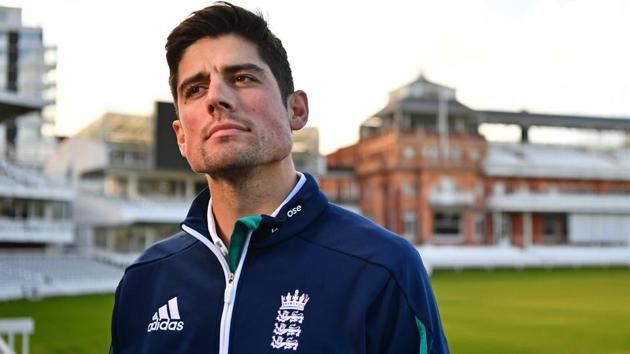 Alastair Cook says he started questioning his own leadership as England captain
England's most-successful captain Alastair Cook, who had stepped down from captaincy earlier this year following much deliberation, has revealed how self-doubt made him step down from his role
UPDATED ON MAY 03, 2017 07:03 PM IST
Former England skipper Alastair Cook has revealed that his decision to step down as captain first occurred to him during Pakistan's tour of England and Ireland last year and he couldn't get that thought off his mind thereafter.
Cook, who is England's most-capped and successful Test captain with 24 victories and 13 draws in 59 Tests, stepped down in February earlier this year after his side lost 4-0 in India.
READ | Why cricket superman AB de Villiers hid love letters in the roof of his house
"I started questioning myself on certain decisions, not just tactically on the pitch, but with leadership in general," Cook told The Times, UK regarding the Pakistan series. "It was when we had a break in Dubai between the third and fourth Tests in India that I came back to that question. Sometimes getting away and being outside the team bubble can help. Our hotel was out in the sticks. We didn't see any of the guys. When I came back, it was quite clear in my mind."
Before that horrendous tour against India, Cook had led England against Bangladesh and Pakistan. While they were held 2-2 by Pakistan at home, drawing against Bangladesh earned him severe criticism. It was a two-match series and England lost the second one to end the series on a sorry note.
READ | Ben Stokes' million-dollar show for RPS vs Gujarat Lions hailed by Steve Smith
Cook stated that introspection more than the results helped him come to the conclusion. "The question that I kept coming back to was, 'Am I leading the team forward?' After doing it for quite a long time, the stuff you say, because of who you are, you end up saying the same stuff in a slightly different way," Cook added. "I started questioning what was going to happen over the next few years. The dream of captaining the team to Australia was certainly there, and in my mind I thought that it would have been a nice way to finish the captaincy."
The 32-year-old, however, added that his decision also made him realise that he could contribute with the bat instead and lead the team from the front. "Because I'm no longer the captain, I have to accept that I am now in the latter stages of my career, however long that may be," he said. "I'm motivated by the idea of producing match-defining performances. And you'd hope that at 32, you're a better player than when you started. It would be nice to have a couple of gun years."
Close