Anil Kumble's headmaster jibe rekindles coach fall-out with Virat Kohli
Updated on Nov 08, 2017 08:40 AM IST
Anil Kumble talked about his stint as the Indian cricket team coach and the issues with skipper Virat Kohli during a high-profile interaction with Microsoft CEO, Satya Nadella.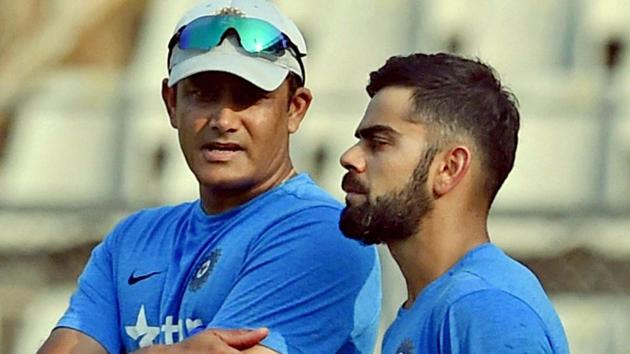 Hindustan Times, New Delhi |
N Ananthanarayanan
Anil Kumble, who had stepped back from the public eye since his acrimonious exit as India cricket team coach in June, alluded to that parting during a high-profile interaction with Microsoft CEO, Satya Nadella on Tuesday. (IND vs NZ 3rd T20 BLOG)
India's record Test wicket-taker was talking about aspects that define one's approach to leadership when he pointed out his grandfather was a school headmaster and inculcated the value of education with sports.
READ | Virender Sehwag wants Aadhaar card for 'Hindi speaking' Ross Taylor
"Self-belief comes from values you inculcate…my grandfather was a headmaster. That term kept coming back to me later in life. Some of you here will understand," Kumble said.
The former India skipper stepped down as coach due to a fall out with skipper Virat Kohli and described their relationship as 'untenable' in a brief statement issued on stepping down. There had been jibes that Kumble had behaved like a 'headmaster' that had suffocated some of the players.
READ | Sunil Gavaskar defends under fire MS Dhoni, blasts youngsters like Hardik Pandya
Kumble, who holds a mechanical engineering degree, shares common ground with the Hyderabad-born Nadella, who was an off-spinner in school and still follows the game closely.
He has not spoken about the specific issues that soured his relationship with Kohli since stepping down at the end of the ICC Champions Trophy in London.
Personalise your news feed. Follow trending topics