India vs New Zealand, 3rd T20, Thiruvananthapuram, Highlights: IND beat NZ by 6 runs, win series 2-1
Updated on Nov 08, 2017 12:01 AM IST
Riding on Jasprit Bumrah and Yuzvendra Chahal's brilliance, India beat New Zealand by six runs in the rain-hit Thiruvananthapuram T20 to win the three-match series 2-1. Get full cricket score of India vs New Zealand 3rd T20 from Thiruvananthapuram here.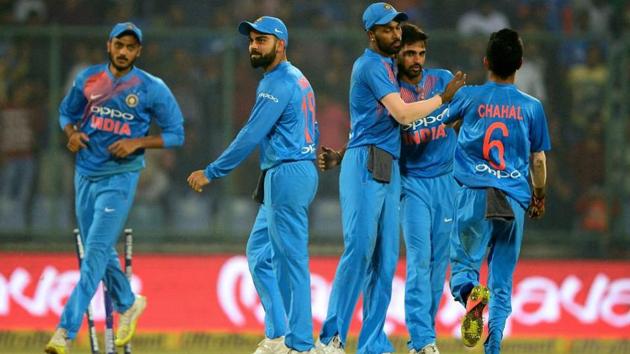 India beat New Zealand by six runs in the Thiruvananthapuram T20 to win the three-match series 2-1. Playing spoilsport, rain reduced the decisive match of the series and first ever International match at Greenfield Stadium to an eight overs per side affair. Stroke-making was not easy under the conditions and all the hosts could manage was just 67/5. However, the Indian pacers and spinners bowled exceptionally well and guided the team to an excellent win. Get full cricket score of India vs New Zealand 3rd T20 here (SCORECARD) (STREAMING INFO)
23:35 hrs IST: And that's it. Thank you for joining us. Until next time, it's goodbye. Cheers!
Jasprit Bumrah (Man of the Match and Man of the Series): "The slower ball was gripping, after the first inning, Bhuvi and I had a chat about what will work. We saw they were gripping the ball, but our slower balls were not gripping. If you think about pressure, you won't be able to deliver."
Virat Kohli: "We were happy to get a game eventually. An exciting game. We expected them to give us a good fight, we were quite nervous as to whether we could get enough on the board. You need games to step up and finish off games, the guys showed character."
Kane Williamson: "It was quite hard to know what a good score was on that surface. A tough match. A tricky surface. Runs on the board was handy. India outplayed us, although it came down to the last 2-3 deliveries. We showed good fight throughout, played smart cricket, but you need to be at your best to win here."
Hardik Pandya: "Will feel the pain after the game. I knew in the seventh over that I'll be bowling the last over. I knew I had to keep calm. Important to have a calm mind, one or two will go here and there."
Yuzvendra Chahal: "The wicket suited the bowlers, you have to handle the pressure. I've bowled in so many games like this. Whole team backed me, I calculate accordingly what the batsmen will do."
Ravi Shastri: " You'd be lying if you said you're not up for it. The balance can shift with 2-3 deliveries. There was electricity there while fielding. We thought we could do it, we aimed for 65, anything more was a bonus."
23:01 hrs IST: And that's it. Pandya does it for the hosts. India beat New Zealand by six runs to win the T20 series 2-1.
22:57 hrs IST: SIX! Slower ball from Pandya but it's back of a length and de Grandhomme smacks it over long leg for a maximum. New Zealand need 11 off 3.
22:55 hrs IST: Only one run off the first two balls from Pandya. Can't get any better!
22:53 hrs IST: Hardik Pandya to bowl the final six balls.
22:51 hrs IST: Bumrah lives up to his reputation. Good over in context of the game. New Zealand need 19 off 6.
22:46 hrs IST: OUT! And straightaway, Bumrah strikes. Nicholls looks to sweep it over fine leg but doesn't get the power and Iyer does the rest.
22:44 hrs IST: Another tidy for India, only four runs off it. New Zealand need 29 off 12. Bumrah to bowl the penultimate over.
22:40 hrs IST: Colin de Grandhomme finishes the over with a maximum. New Zealand need 32 off 18. Chahal now.
22:38 hrs IST: WICKETS! Pandya's brilliance in the field has Williamson run-out. And Dhawan's neat catch at deep mid-wicket off Kuldeep gets Phillips.
22:35 hrs IST: Kuldeep Yadav comes into the attack.
22:34 hrs IST: FOUR! Much-needed boundary for the Kiwis. Poor delivery from Bhuvi, towards leg, Phillips lofts it well in the gap between deep mid-wicket and long on. New Zealand need 42 off 24.
22:30 hrs IST: Bhuvi to bowl his last over.
22:29 hrs IST: Another tidy over for India, just five off it. New Zealand need 52 off 30. Williamson 5*, Phillips 2*
22:26 hrs IST: Stupendous over from Bumrah, only three runs off it. New Zealand need 57 off 36. Yuzvendra Chahal comes into the attack.
22:25 hrs IST: This is where New Zealand need Kane Williamson the most. His technique, shot selection is perfectly suited for such conditions.
22:22 hrs IST: OUT! Bumrah joins the party, gets the danger-man Colin Munro. That's a big wicket for India. Smiles all around.
22:19 hrs IST: OUT! Knuckle delivery from Bhuvi, Guptill looks it to clear the mid-wicket region but doesn't make the contact and gets bowled. New Zealand are 8/1 after first over.
22:17 hrs IST: SIX! Short of a length from Bhuvi, Munro dances down the track and hammers it over mid-wicket for a maximum.
22:15 hrs IST: It's time for action. Guptill to face the first ball. Bhuvneshwar Kumar for India.
22:12 hrs IST: New Zealand need two good overs, of around 12-15 runs, and that would seal the deal.
22:07 hrs IST: And that's it. Magnificent over from Boult, gives away just six runs. The Kiwis have been outstanding. They need 68 off 48 balls to win the series. Stay tuned!
22:02 hrs IST: Trent Boult to bowl the last over.
22:00 hrs IST: SIX! And it doesn't turn this time. Too full from Santner and Pandya creams it over wide long on. India are 61/4 after 7 overs.
21:58 hrs IST: Mitchell Santner to bowl the penultimate over.
21:56 hrs IST: WICKET! Deceives him in the air as they say! Shreyas Iyer mistimes and finds Guptill at long off. Second wicket for Sodhi. India 50/4 after 6 overs.
21:54 hrs IST: SIX! Fuller delivery from Sodhi and Pandey lofts it over long on for a maximum. Wow! India need more of these.
21:52 hrs IST: Another good over for the visitors. Nine runs off it (in context of the game). India are 40/3 after 5 overs. Sodhi now.
21:49 hrs IST: Southee to continue. This is brilliant stuff from the Kiwis. Taking the pace off the ball. Singles, doubles won't matter them but boundaries will.
21:47 hrs IST: OUT! And Sodhi has his revenge, gets rid of Kohli. Tries to pull over mid-wicket but doesn't get the timing and Boult does the rest. India are 31/3 after 4 overs.
21:44 hrs IST: Ish Sodhi comes into the attack and the Indian skipper greets him with a four and a six. While the first ball was quite shortish and was slapped towards wide long on boundary, the second one was flighted and Kohli smacked it over the long on boundary.
21:41 hrs IST: Virat Kohli and Shreyas Iyer are next in.
21:40 hrs IST: DOUBLE BLOW! Southee removes Dhawan and Rohit off consecutive deliveries. While Dhawan failed to pick a slower one, the Mumbaikar pulled one to long leg, only to find Santner, who took an excellent diving match.
21:38 hrs IST: Tim Southee comes in as the first change.
21:37 hrs IST: Excellent over from Santner despite the boundary. Some sharp turn for him. India are 14/0 after 2 overs.
21:36 hrs IST: FOUR! Rohit doesn't get the timing but it's good enough to go past the boundary. Shorter delivery from Santner and the Indian opener slaps it past the fielder at mid on.
21:34 hrs IST: Mitchell Santner comes into the attack. Kane Williamson -- Thinking Captain!
21:32 hrs IST: FOUR! Dhawan comes down the track and slices it to the left of the fielder at third man for his first boundary. India are 7/0 after first over.
21:29 hrs IST: Straightaway some swing for Boult, the Indian vice-captain flicks it to fine leg for a single.
21:28 hrs IST: Right then, it's time for live action. Rohit Sharma to take strike. Trent Boult to start the proceedings for the visitors.
21:21 hrs IST: So Pandey and Kuldeep replace Siraj and Axar. For the Kiwis, Southee comes in for Milne.
21:18 hrs IST: Here are the playing XI of both teams -
India: Rohit Sharma, Shikhar Dhawan, Manish Pandey, Shreyas Iyer, Virat Kohli(c), Hardik Pandya, MS Dhoni(wk), Bhuvneshwar Kumar, Kuldeep Yadav, Jasprit Bumrah, Yuzvendra Chahal
New Zealand: Martin Guptill, Colin Munro, Kane Williamson(c), Tom Bruce, Glenn Phillips(wk), Henry Nicholls, Colin de Grandhomme, Mitchell Santner, Tim Southee, Ish Sodhi, Trent Boult
21:16 hrs IST: New Zealand have won the toss and have opted to bowl.
21:06 hrs IST: So we have a good news. The toss will be at 21.15 local, start at 21:30 and 8 overs per side.
21:02 hrs IST: Maximum we'll have is a five-over per side match. Both teams are in a huddle.
21:01 hrs IST: We're all set for inspection. The main pitch is still covered.
20:44 hrs IST: Both teams doing their normal drills. We'll have an inspection in 16 minutes from now.
20:32 hrs IST: And finally, covers are off. Don't think we are far away from the toss. Ravi Shastri, Virat Kohli and Kane Williamson inspecting the pitch.
20:24 hrs IST: The outfield looks quite dry despite raining for most of afternoon and evening. Super job done by groundsmen. Almost all Indian players in the dugout.
20:17 hrs IST: The pitch still remains covered. Umpires out for an inspection.
20:14 hrs IST: Looks like the rain has stopped. Just a few droplets. The crowd going wild seeing this. They've been very patient so far!
20:09 hrs IST: For every four minutes lost, we will lose one over. Some covers are coming off....... Oh wait! They're back on. Stay tuned.
20:00 hrs IST: Three of India's four failed T20I chases at home have come against New Zealand.
19:51 hrs IST: Very light drizzle now. Umpires on the field. Super Soppers back in action!
19:39 hrs IST: The cut-off time for a five-over match is 22:15 IST. We'll start to lose overs from 20:01 IST.
19:27 hrs IST: It's still drizzling quite heavily. Not looking good at all.
19:18 hrs IST: Anil Kumble recalls 'headmaster' jibe on quitting as India cricket team coach. This is what he said!
19:08 hrs IST: Super Soppers have stopped. Unrelenting rain. It's a shame we might not have a full game today. Both teams have played excellent cricket so far.
18:59 hrs IST: Meanwhile, Virat Kohli, Rohit Sharma, Dinesh Karthik and Hardik Pandya are playing a mix of volleyball cum football. And the crowd is going bonkers seeing their favourite players, doing the Mexican wave.
18:57 hrs IST: Officials are saying that if and when the rain stops, they would need only half an hour to start the game. This is just wow!
18:49 hrs IST: More covers on now. Virat Kohli and Co playing football near the dugout.
18:45 hrs IST: Mitchell Starc is in superb form heading into the Ashes. Yesterday, he took a hat-trick in a Sheffield Shield game for New South Wales. Today, he achieved something better!
18:41 hrs IST: An international match here after a gap of 29 years!
18:31 hrs IST: And here comes the official confirmation. Toss has been delayed. More rain pouring in.
18:21 hrs IST: Good news. The rain has eased a bit. Groundstaff on the field now. Could take an hour or so to get it ready.
18:19 hrs IST: No official statement about the toss getting delayed but most likely it will. Two Super Soppers doing their job. Stay tuned for live updates.
18:15 hrs IST: Yuzvendra Chahal is the leading wicket-taker for India (15 in eight games) in T20 internationals in 2017.
18:08 hrs IST: The last time India lost a bilateral series at home was against South Africa in 2015.
18:00 hrs IST: Most of the outfield is not under covers but the central part is. And, rain has got HEAVIER.....
17:50 hrs IST: There's a slight drizzle going on. Toss could be delayed. We'll keep you posted.
17:30 hrs IST: MS Dhoni is set to become the first Indian player to appear in all eight T20 Internationals against New Zealand.
17:14 hrs IST: There is a possibility of not getting to see any action as the rain looms large over Thiruvananthapuram, which can't wait to get its first taste of international cricket in almost three decades.
17:06 hrs IST: STAT ATTACK - Virat Kohli is 57 runs away from becoming only the second batsman ever to complete 2,000 runs in T20 Internationals.
17:04 hrs IST: STAT ATTACK - New Zealand have won six of their last seven T20s against India. Today's game will be NZ's 100th fixture in the shortest format.
16:56 hrs IST: After Rohit Sharma-Shikhar Dhawan's brilliance in Ashish Nehra's farewell game, it was Colin Munro's blistering century that helped the Black Caps make it 1-1. Individual performances have done it for the Kiwis so far (in Mumbai and Rajkot). Can they click together as a team and stop India's unbeaten run?
16:54 hrs IST: Good evening and welcome to HT's live coverage of the third and the final T20 between India and New Zealand at Thiruvananthapuram.
Virat Kohli said India have no excuses to offer after losing by 40 runs in the second T20 against New Zealand. The Black Caps have proved worthy foes in their white-ball tour of India, winning the first one-day international by six wickets before losing that series 2-1.
And they have levelled the three-match T20I contest at 1-1 after coming out on top in Rajkot on Saturday.
Skipper Kane Williamson won the toss and elected to bat at the Saurashtra Cricket Association Stadium, where Colin Munro's unbeaten 109 and Martin Guptill's 45 fired the tourists to 196-2.
India lost regular wickets in their run chase, Virat Kohli top-scoring with 65 one day prior to his birthday and MS Dhoni making 49. But newcomer Shreyas Iyer (23) was the only other player to reach double figures for the hosts.
Close Story
Personalise your news feed. Follow trending topics