India vs New Zealand: Kiwis wary of unorthodox Jasprit Bumrah - Mitchell Santner
Updated on Nov 06, 2017 08:19 PM IST
Jasprit Bumrah, with an excellent track record in the final overs, will be key for India in the deciding third T20 against New Zealand on Tuesday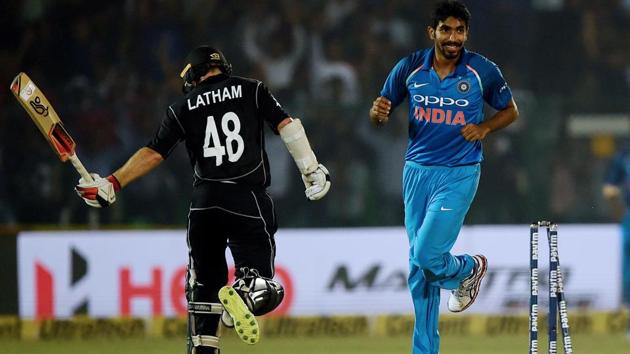 Jasprit Bumrah has been an asset to Virat Kohli, especially in the death overs. His yorkers may not be crushing toes like Waqar Younis' did but they are sharp enough to worry the batsmen.
Testimony of the same was given by New Zealand all-rounder Mitchell Santner ahead of Tuesday's third and deciding T20 in Thiruvananathapuram when he said the India bowler is a tricky customer.
READ | India vs New Zealand: Indian camp dismisses calls for MS Dhoni's T20 ouster
"Both Bumrah and Bhuvi (Bhuvneshwar Kumar) have bowled brilliantly in the series. Bumrah is very good at the death, he can hit the (block) hole and has very good change-ups. We prepare as we can in the nets for his bowling, but in the middle if he doesn't miss it, it can be quite difficult," Santner, the team's key spinner, said on Monday.
The Virat Kohli-led Indian team has crushed every opposition in limited-overs cricket in the last year-and-a-half, sweeping many series. But this New Zealand team has competed.
NARROW ODI MISS
They were as close as possible to winning the ODI series (lost by 6 runs) and have a real chance of clinching the T20 series at the Greenfield International Stadium on Tuesday, which Santner admitted doesn't happen often.
"India have played very good cricket for a long time now. They are very tough to beat in home conditions. We have it to the decider for the last two series. Both teams will feel the pressure and would want to win. It is about performing on the day. They played well in Kanpur under pressure too. We have to play the best we can and perform our roles," added the south paw.
READ | India vs New Zealand: T20 decider set for ODI thriller repeat, rain permitting
"Last year we did not put up a performance we wanted to. In the last ODI in Kanpur, we were close but every time we get to a decider it is a positive. We are playing pretty good cricket at the moment. If we can put out a similar performance (like Rajkot), we can take the series 2-1.
RARE WIN IN INDIA
"We have a chance to win a series in India which is tough to come by, so everyone is pretty excited."
India are in a spot of bother with their fifth bowler but the 25-year-old said New Zealand are not really focussed on targeting any bowler.
READ | 'MS Dhoni won't be missed in Indian T20 cricket team, time to look beyond him'
"Ashish Nehra has been a very good bowler for a long time for India. (Mohammed) Siraj, on debut, bowled really well but was unlucky at times – it is the nature of T20 cricket.
"You might try and target one bowler but anyone can bowl well on the day, so I don't think we will target anyone. We still have to respect the bowler. We're going tomorrow with a clear head and will try and hit the bad balls, but also do something similar to the last game."
Personalise your news feed. Follow trending topics