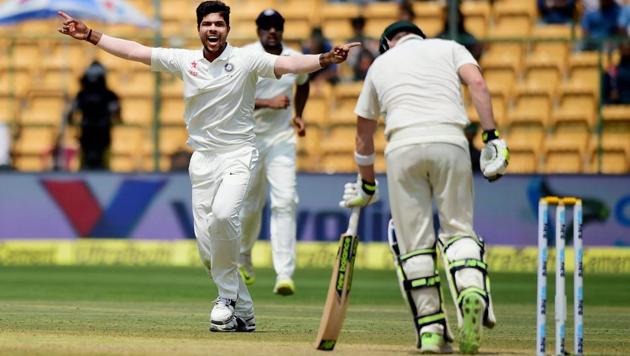 India vs Australia: After Pune shame, Bangalore pitch rated 'below average'
The Bangalore pitch for the second India vs Australia Test has been rated 'below average' by International Cricket Council (ICC). Before this, the Pune pitch for the first Test was rated 'poor'.
UPDATED ON MAR 14, 2017 01:15 PM IST
In another blow to the image of Indian cricket, the Bangalore wicket that hosted the second India-Australia Test has been rated as 'below average' by the International Cricket Council (ICC) match referee Chris Broad in his report.
Read | After Pune Test rout by Australia, more shame for Indian cricket - This is why
HT has found out that the Broad has rated the M Chinnaswamy Stadium outfield as very good but the wicket as below average.
Earlier, the wicket for the opening Test match at Pune had been termed as poor.
Read | Indian cricket and its history with poor pitches: Pune not an anomaly
While the wicket at Pune got the poor rating by the ICC because of being a rank turner, the M Chinnaswamy Stadium wicket saw balls keeping low. The low bounce cost quite a few wickets, none more glaring than that of Steve Smith in the second innings when the batsman was stuck low on his pads in front of the wickets.
The stunned Smith then suffered a brain fade and made the mistake of looking up at his dressing room to check if he should ask for the Decision Review System. In the first innings, Virat Kohli also played for the normal bounce and his bat came over the bounce to be ruled leg before wicket.
Read | Ravichandran Ashwin claims six wickets as India beat Australia in Bangalore Test
The low bounce made it difficult to play both the pacers and spinners.
The bowlers to take more than five wickets in the match were Australia's pacer Josh Hazelwood and spinner Nathan Lyon, and Ravindra Jadeja and R Ashwin for India.
In a thrilling match, the ball continued to dominate the bat, with India winning a low-scoring game to tie the series 1-1.
Close