BCCI president Sourav Ganguly stable after undergoing angioplasty, will be monitored for 24 hours: Report
Hindustan Times, New Delhi |
hindustantimes.com
Jan 02, 2021 05:52 PM IST
Sourav Ganguly had complained of discomfort in his chest while at the gym in his house, after which he was rushed to the hospital.
Former India cricket captain and BCCI president Sourav Ganguly, who was admitted to Woodlands Hospital in Kolkata on Saturday after he complained of chest pain, has undergone angioplasty and is currently stable, news agency ANI reported quoting Dr Aftab Khan of the hospital.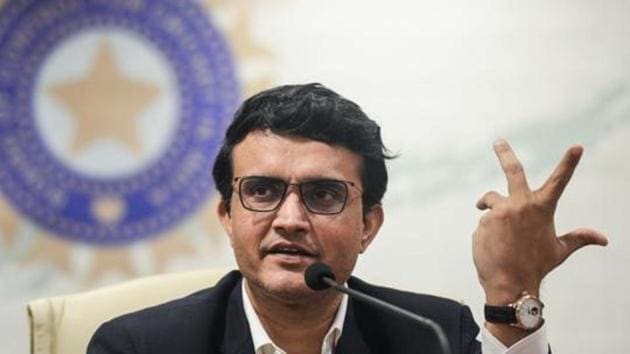 "Sourav Ganguly has undergone angioplasty. He is stable now. He will be monitored for 24 hours. He is completely conscious. There are two blockages in his heart for which he will be treated. As of now he is stable, we will have a meeting on Monday and then we will decide what needs to be done further, priority is to let him settle down after heart attack. He is risk-free and he is talking as well," Dr. Aftab told reporters, according to news agency ANI.
Ganguly had complained of discomfort in his chest while at the gym in his house, after which he was rushed to the hospital.
"Sourav Ganguly suffered from chest discomfort while doing tread mill at his home gym. He had family history of IHD OE Ischemic heart disease. When he came to the hospital at 1pm, his pulse was 70/min, BP 130/80 mm of Hg and other clinical parameters were within normal limits. His ECG showed hyper acute ST segment elevation in inferior leads and lateral leads," said the medical bulletin of Woodlands Hospital which was released earlier.
Also Watch | BCCI chief Sourav Ganguly admitted to hospital after complaining of chest pain
"Echo showed mild inferior wall hypokynaesia with preserved overall left ventricular function. He is stable haemodynamically. He has received loading doses of dual anti platelets and statin and is undergoing primary angioplasty now," the bulletin had added.
ALSO READ: West Bengal CM Mamata Banerjee wishes Sourav Ganguly speedy recovery after he suffers 'a mild cardiac arrest'
Ganguly, 48, has been BCCI president since October 2019. His older brother Snehasish, a first-class cricketer and now an administrator at the Cricket Association of Bengal, had tested positive for Covid-19 last year and had to be admitted to hospital.
"Sourav Ganguly is stable. Senior doctors are looking after him. We will let you know once we get further updates," said Snehasish on Saturday.
West Bengal chief minister Mamata Banerjee wished the Indian cricket stalwart a speedy recovery and had also said in a tweet that he had suffered a 'mild cardiac arrest'.
ALSO READ: 'Dada, jaldi se theek hone ka': Virat Kohli, Virender Sehwag, BCCI and others wish Sourav Ganguly a speedy and healthy recovery
BCCI secretary and Ganguly's close aid in the cricket board, Jay Shah, tweeted that Ganguly is responding well to treatment.
"I wish and pray for the speedy recovery of @SGanguly99. I've spoken to his family. Dada is stable and is responding well to the treatment," Shah tweeted.
Ganguly, who took over as the BCCI president in 2019, has been hailed as one of the best captains to have led the country. He is credited for starting a new era in Indian cricket as he backed youngsters and created a fighting unit that achieved a lot of success across the world.
He led India to the famous home Test series win against Steve Waugh's all-conquering Australian team in 2001 and also guided the team to the final of the 2003 ICC World Cup. Under his captaincy India jointly won the ICC Champions Trophy. He also led India to their maiden Test series win in Pakistan.
Ganguly scored 11,363 runs in 311 ODIs and 7212 runs in 113 Tests while representing India. He has 38 international centuries and 107 fifties to his name across formats. He captained India in 49 Test matches and won 21 of those. He also led the the team in 146 ODIs, winning 76 of those.
Ganguly's tenure as BCCI president was for nine months but he and Board secretary Jay Shah have continued nonetheless as the Supreme Court has still not ruled on the BCCI's plea seeking amendments to its new constitution, which put a cap on the age and tenure of office-bearers as recommended by the Lodha Committee.
Ganguly had earlier held positions in the Cricket Association of Bengal. The former India captain began as joint secretary at the CAB in 2014.
The BCCI president had on Wednesday visited Eden Gardens and discussed preparations for the upcoming Syed Mushtaq Ali Trophy with the Cricket Association of Bengal (CAB) president Avishek Dalmiya.
Earlier this week, Ganguly had also cleared the air about him joining politics ahead of West Bengal Assembly polls next year. He had stated that he went to meet the state's Governor upon invitation.
"If the Governor wants to meet you, you have to meet him. So let us keep it like that," said Ganguly.
(With Agency inputs)