Golf is a weird sport, taught me how to be disciplined: Brian Lara
Brian Lara said that he focused more on cricket than golf because he felt the game would affect his batting.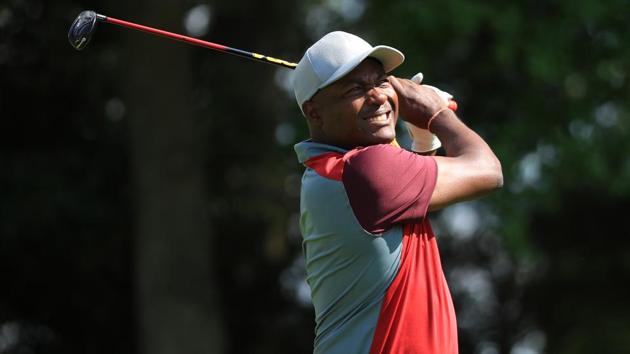 Updated on Nov 06, 2018 06:51 PM IST
Bengaluru | By Press Trust of India
Moving or bouncing, a cricket ball was never a concern for Brian Lara but one of the most destructive batsmen ever ended up with a headache while trying to control 'silly little golf balls'.
"Yes, golf is a weird game. I was capable of dealing with moving and bouncing cricket balls, but this little silly ball, sitting on the ground, gave me quite a headache early on for few years, but taught me how to be disciplined in controlling the ball," Lara said on Tuesday speaking about his love for the game.
Lara took to golf in 1994 after he beat Sir Garfield Sobers' record of the highest Test knock and has won titles in the Caribbean. Speaking about other cricketers, who have taken to golf, Lara said while Kapil Dev and Jacques Kallis' love for the sport is well known, former Australian captain Ricky Ponting is among the best.
"We have been hearing about Jacques Kallis and Kapil Dev, but the best that I have seen is Ricky Ponting. His putting is a little better and he is consistent on that front," he said. He also recalled an instance of playing alongside Kapil Dev in an American tournament.
"We were playing in a tournament in the US. I was up against an American amateur. He defeated me. After that I went up to Kapil and said, 'this American guy is unbelievable'.
READ: Warne's Royal anecdotes: Handling Kaif's ego, figuring Munaf's age
"Kapil nodded funnily and went against him. He returned only to tell me he cleaned the American in 15 holes. That is Kapil, a proper golfer here," he said.
Lara said he focused more on cricket than golf because he felt the game would affect his batting.
"Pretty early, when I started playing golf, I was compared to Garfield Sobers, who played both cricket and golf. In cricket, you should keep your wrist as straight as possible, unlike golf.
"This itself was a problem, and hence, I did not play much of golf in my playing days," said the legendary left-hander.
"There were not many left-handed golfers too. I did switch to play right-handed pretty soon, but did not felt comfortable because playing left-handed in cricket came naturally to me. This also made me focus not much on golf," he said.
Close Story