IPL 2019 Qualifier 2 Highlights: Chennai beat Delhi by 6 wickets, to face Mumbai in final
As it happened: Chennai restricted Delhi to 147/9 with Dwayne Bravo, Deepak Chahar, Ravindra Jadeja and Harbhajan Singh scalping two wickets each. Faf du Plessis and Shane Watson slammed respective half-centuries to put CSK on their way in the chase. They lost few wickets but were always on top and got home with 6 wickets and 6 balls to spare.
Follow CSK vs DC Highlights below -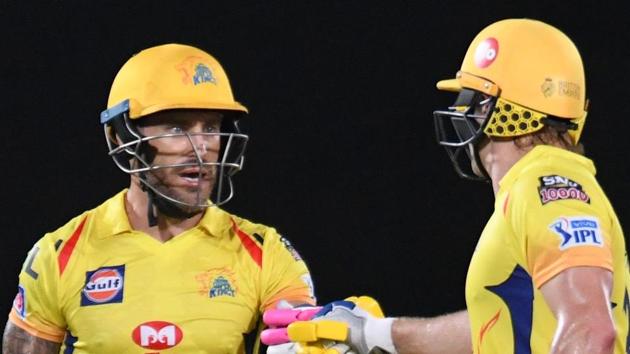 Updated on May 11, 2019 08:14 AM IST
23:07 hrs IST
Match recap
Chennai restricted Delhi to 147/9 with Dwayne Bravo, Deepak Chahar, Ravindra Jadeja and Harbhajan Singh scalping two wickets each. Faf du Plessis and Shane Watson slammed respective half-centuries to put CSK on their way in the chase. They lost few wickets but were always on top and got home with 6 wickets and 6 balls to spare.
23:05 hrs IST
Match ends
Dwayne Bravo hits the winning runs as Chennai beat Delhi by 6 wicket to seal their progression into the final. Chennai will now face Mumbai in the championship clash on Sunday.
23:00 hrs IST
Dhoni out!
In trying to clear the mid wicket ropes, MS Dhoni is caught out in the deep by Keemo Paul off Ishant Sharma. Chennai still need 2 runs to win.
22:55 hrs IST
Four and four
Ambati Rayudu shows his might as he hits couple of boundaries off Keemo Paul in the 18th over. He flicked one towards fine leg and the second one he cut past the point fielder. Chennai now need just 4 runs off the final two over.
22:50 hrs IST
Dhoni starts well
MS Dhoni gets off the mark with a boundary towards fine leg as Chennai score 8 runs from the 17th over of the innings. Chennai are on the verge of an emphatic win here as Delhi heads have started to drop now.
22:45 hrs IST
Raina castled
Axar Patel gives Delhi a glimmer of home as he castles Suresh Raina for 11 as Chennai lose their third wicket. Although CSK need just 21 runs off the final four overs, another wicket here will seriously put the pressure on them.
22:40 hrs IST
Chennai steady
Even after the dismissals of their openers, CSK are firmly on top of the match as Raina and Rayudu are building a good partnership and steering Chennai towards a well-deserved win in the match.
22:34 hrs IST
Watson falls after fifty
Shane Watson hit a huge six down the ground off Keemo Paul and completed his 31-ball fifty in the process. But in the next over, he was dismissed by Amit Mishra as Watson hit the ball straight into the hands of Boult at long-off. Chennai are two down now in chase.
22:29 hrs IST
Six, four, six
Keemo Paul continues to be expensive as he is hit for runs by Shane Watson. The six went over mid wicket ropes while the four went in between mid wicket and long on. Then, he hits a six in the same direction and with that, CSK have crossed th 100-run mark in great style.
22:23 hrs IST
First wicket of the innings
Trent Boult has finally managed to break this partnership as he gets rid of Faf du Plessis for 50. The right hander hits the ball straight into the hands of Keemo Paul at square leg. Suresh Raina joins Shane Watson in the middle and he is off the mark with a single straightaway.
22:20 hrs IST
Fine fifty for Faf
Faf du Plessis completes his half-century off just 37 deliveries and he is leading CSK's charge in the match. The man for the big occasion has risen once again. Chennai are moving full throttle towards the target with the openers still in the middle.
22:15 hrs IST
Watson survives
Shane Watson hit an Amit Mishra delivery high in the air and it was dropping in between short mid wicket and long-on. Prithvi Shaw who was closer to the falling fall, never went for the catch and Colin Munro couldn't reach in time. Big let off for CSK.
22:10 hrs IST
Fifty partnership
Bonus runs for CSK as Keemo Paul bowls wide which beats the keeper and goes for 5 wides. With that, the 50-run partnership also comes up between Watson and du Plessis. Watson then flicks the ball towards fine leg for his first boundary of the innings. Poor bowling from Keemo Paul.
22:05 hrs IST
No stopping Faf
Du Plessis is leaving nobody at the moment as he sweeps Amit Mishra for his sixth boundary of the innings. 6 runs came from that over from Mishra as CSK on the verge of going past the 50-run mark now. DC need wickets quickly to stop the CSK juggernaut.
22:00 hrs IST
Four four and four!
Faf du Plessis is now hitting boundaries at will as he hits three of them off Ishant Sharma. He flicked the first one towards square leg, cut the second past the short third man and pulled the third towards mid wicket. Ishant concedes 15 from the over as CSK are back on top in the chase.
21:55 hrs IST
du Plessis cuts loose
Faf du Plessis seems to have had enough with the sedate start as he takes the attack to Axar Patel. He hits him for a four and six off successive deliveries as CSK score 11 runs from the over to break the shackles. Pressure back on the DC bowlers.
21:50 hrs IST
Runs coming in singles
Another excellent over for DC as Ishant Sharma concedes just three singles off the fourth over of the innings. CSK openers are contend with the run of play at the moment and aren't taking any unnecessary risks. One must feel that something would give in this over.
21:46 hrs IST
First boundary of the innings
Trent Boult drops the ball short and Faf du Plessis was waiting for hit as he hit the ball towards mid wicket for the first boundary of the innings. 9 runs came from the Boult over as CSK openers are looking to get a move on in the chase after a slow start.
21:40 hrs IST
Ishant starts well
Fast-bowler Ishant Sharma continues to keep things tight for Delhi early on in the innings as he gives away just three singles of the second over oft he chase. Watson and du Plessis are looking to get their eye in first before taking the attack to the bowler.
21:33 hrs IST
Comedy of errors
Catastrophic mix-up between the two batsmen but no one is run-out as DC fielders suffered from a mix-up of their own. Du Plessis hit the ball towards point and went for the run and then returned. Both batsmen were in the middle of the wicket but the two was bad at the non-striker's end. Munro then tried to run out du Plessis at the wicket-keeper's end but he threw the ball wide as well. One run came from that entire turn of events and also the first over of the innings.
21:27 hrs IST
Match begins
Faf du Plessis and Shane Watson are opening the innings for Chennai Super Kings while Trent Boult has the new ball in his hands and he will bowl the first over of the CSK chase.
21:20 hrs IST
Ishant finishes innings in style
Ishant Sharma hits a four and six off the final two deliveries off the innings as Delhi reach 147/9 in 20 overs. Dwayne Bravo, Deepak Chahar, Ravindra Jadeja and Ravindra Jadeja all scalped 2 wickets each for CSK.
21:14 hrs IST
Boult falls after six
Trent Boult tried to up the ante in the last over and even hit a huge six down the ground off the Ravindra Jadeja. But off the next delivery, he is castled by as Jadeja drops the ball a bit short. Delhi lose their ninth wicket now.
21:10 hrs IST
Bravo takes a stunner
Rishabh Pant becomes the eighth Delhi wicket to fall and with him goes the team's hopes of putting up a competitive total in the innings. Off Deepak Chahar's bowling, Pant hits the ball straight into the hands of Dwayne Bravo at long-on.
21:04 hrs IST
Bravo strikes!
Dwayne Bravo bowls a perfect yorker and it uproots the off-stump of Keemo Paul. Delhi are seven down now as Bravo picks his second wicket of the night. Rishabh Pant has two overs left to take DC to a competitive score.
20:56 hrs IST
Pant on the attack
Rishabh Pant hits a four and six off Imran Tahir to show that he is not going down without a fight. He should have been dismissed while trying to hit a six but the Deepak Chahar took the catch at long off and touched the ropes. 14 runs came from the over from Tahir.
20:52 hrs IST
Delhi six down
Harbhaian Singh picks his second wicket of the night as he gets rid of Sherfane Rutherford for 10. The southpaw edged the ball into the hands of Shane Watson who was fielding at short third man. Delhi are six down now with just four overs left to be played in the innings.
20:46 hrs IST
DC searching for boundaries
Dwayne Bravo concedes 8 runs from the over but there wasn't a single boundary. Only five overs are left in the innings and Delhi are yet to go past the 100-run mark. Rishabh Pant remains the key for DC and if he goes berserk, CSK might still have a match at their hands.
20:42 hrs IST
Stat attack
When Harbhajan Singh dismissed Dhawan, it was his 23rd wicket against DC in the IPL. He now sits at the top of the list of most wickets against Delhi.
23: Harbhajan Singh
22: Lasith Malinga
21: Piyush Chawla
20:37 hrs IST
Rutherford survives
Delhi almost lost their sixth wicket of the night as Imran Tahir trapped Sherfane Rutherford on the pads. The umpire said not out. CSK players opted to use the DRS but replays showed that the ball was going over the stumps. 5 runs from that over from Tahir.
20:31 hrs IST
Axar departs now
Another one bites the dust as Axar Patel is the latest DC batsman to head back into the hut. The southpaw hits the ball straight into the hands of Imran Tahir, who was fielding at third man. Delhi have lost half their side now as Sherfane Rutherford joins Rishabh Pant in the middle.
20:25 hrs IST
DC captain falls
Imran Tahir picks his first wicket of the day as he gets rid of Shreyas Iyer for 13. Iyer tried to play across the line but ended up top edging the ball and Suresh Raina took a good catch at point. Delhi have lost their fourth wicket now as Axar Patel comes out to bat.
20:19 hrs IST
Pant looking good
Rishabh Pant plays the paddle sweep to perfection and hits his first boundary off Imran Tahir who concedes 9 in the over. Pant and Iyer need to bat for most parts of the innings if DC are to get to a formidable total in the match.
20:14 hrs IST
Munro departs
Commentator's curse! In trying to clear the square leg ropes, Colin Munro is caught near the boundary ropes by Dwayne Bravo off Ravindra Jadeja. Delhi have lost their third wicket of the innings as CSK bowlers are firmly on top of their opponents at the moment.
20:10 hrs IST
Delhi go past 50
Colin Munro takes the attack to Harbhajan Singh and hits him for two boundaries on the trot on the off side. 10 runs from that over from Bhajji as Delhi have crossed the 50-run mark. Today may be Munro's day as he looking good so far in the innings.
20:05 hrs IST
Good over from Jadeja
Ravindra Jadeja keeps things tight for CSK as he bowls a good first over to DC batsmen. He gives away just 3 runs in his over. Munro and Iyer need to build a good partnership here to steady the Delhi ship.
19:58 hrs IST
Excellent catch from Dhoni
Harbhajan Singh provided CSK with their second wicket of the night but it would not have been possible without the stunning effort of MS Dhoni behind the stumps. Harbhajan produced an edge and Dhoni juggled to take a brilliant catch. Delhi are two down now.
19: 52 hrs IST
Munro looking good
Colin Munro is on the attack since coming to bat after the dismissal of Prithvi Shaw. The southpaw has already hit couple of boundaries to show that he means business today. DC have sent him ahead of skipper Shreyas Iyer and he is looking to repay that faith.
19:47 hrs IST
First wicket of the night
Deepak Chahar has provided CSK with the first breakthrough of the night as he gets rid of Prithvi Shaw for 5. CSK needed the help of DRS as Shaw was adjudged not out after the ball hit his thigh pad. But replays showed that the ball was crashing into the stumps and the decision was overturned. DC lose their first wicket.
19:42 hrs IST
Four, four and four!
Shikhar Dhawan has made his intentions clear early on in the match as he hits Shardul Thakur for three boundary on the trot in the second over. Dhawan hit two successive boundaries down the ground and the third he pulled the ball past the squad leg fielder. 13 runs came from that over from Shardul.
19:35 hrs IST
First four of the innings
Deepak Chahar had bowled a good over until the last ball as he had given just three runs off the first five deliveries. But on the last ball, Chahar dropped the ball a bit short and Shaw pulled it for a boundary towards mid-wicket. 7 runs off the first over.
19:28 hrs IST
Match begins
Deepak Chahar has the new ball in his hands and he will bowl the first over for Chennai Super Kings while Shikhar Dhawan and Prithvi Shaw are opening the batting for Delhi Capitals.
19:23 hrs IST
Extra motivation for CSK
If Chennai win this clash, not just they will enter the final but also win their 100th match in the IPL. Only Mumbai Indians have done it so far in the history of the competition.
19:16 hrs IST
Stat attack
158: Average 1st innings score at Dr. Y.S. Rajasekhara Reddy ACA-VDCA Cricket Stadium, Vizag calculated over the 12 matches that have been played at this venue in the IPL.
2012: The last and the only time CSK played an IPL match at Vizag. It was against Deccan Chargers which CSK won by 74 runs.
22: With 22 wickets Harbhajan Singh is the joint highest wicket taker against Delhi Capitals in the IPL. Lasith Malinga also has taken 22 wickets.
4: more sixes required by Shikhar Dhawan to complete 100 sixes in the IPL.
2: more wickets required by Harbhajan Singh to complete 150 IPL wickets. Will become only the 4th player after Malinga (169), Amit Mishra (156) and Piyush Chawla (150) to do so.
5: more wickets required by Dwayne Bravo to complete 150 IPL wickets.
4: wickets required by Amit Mishra to complete 100 wickets for Delhi Capitals in the IPL. Will become the only bowler to do so for DC. He will also complete 250 wickets in T20s.
7: more fours required by Suresh Raina to complete 500 fours in the IPL.
19:10 hrs IST
Playing XIs
Chennai: Faf du Plessis, Shane Watson, Suresh Raina, Ambati Rayudu, MS Dhoni(w/c), Dwayne Bravo, Ravindra Jadeja, Harbhajan Singh, Deepak Chahar, Shardul Thakur, Imran Tahir
Delhi: Prithvi Shaw, Shikhar Dhawan, Shreyas Iyer(c), Rishabh Pant(w), Colin Munro, Axar Patel, Sherfane Rutherford, Keemo Paul, Amit Mishra, Trent Boult, Ishant Sharma
19:02 hrs IST
Toss update
Chennai Super Kings have won the toss and skipper MS Dhoni has elected to bowl first against Delhi Capitals. One change for CSK as Shardul Thakur replaces Murali Vijay while Delhi are going in with the same squad.
18:55 hrs IST
Predicted XIs
Chennai: 1 Shane Watson, 2 Faf du Plessis, 3 Suresh Raina, 4 M Vijay, 5 Ambati Rayudu, 6 MS Dhoni (capt & wk), 7 Ravindra Jadeja, 8 Dwayne Bravo, 9 Harbhajan Singh, 10 Deepak Chahar, 11 Imran Tahir
Delhi: 1 Prithvi Shaw, 2 Shikhar Dhawan, 3 Shreyas Iyer (capt), 4 Rishabh Pant (wk), 5 Colin Ingram, 6 Sherfane Rutherford, 7 Axar Patel, 8 Keemo Paul, 9 Amit Mishra, 10 Chris Morris, 11 Ishant Sharma
18:50 hrs IST
Viv Richards on Qualifier 2
"This is a clash of experience against youth and DC's energy has made a big difference for them throughout the tournament. CSK will have to match that energy in cricketing terms. They have plenty of experience and a guy like Dhoni with the kind of ability he has can single-handedly steer a game. But in these knockout games, team work often makes all the difference. Just look at how Liverpool beat Barcelona in the Champions League," Richards wrote in his column for TOI.
18:44 hrs IST
MS Dhoni on the verge of a record
Dhoni is only 3 dismissals away from surpassing KKR captain Dinesh Karthik to become the wicket-keeper with most dismissals in IPL. It may seem surprising that Dhoni doesn't hold the record in the first place, considering his consistency behind the stumps but the CSK captain has a golden opportunity to claim the top spot against Delhi Capitals.
18:39 hrs IST
Mishra's impeccable record vs CSK
Although CSK got the better of DC the last time these two sides met in the tournament, stats reveal that the three-time champions do have a chink in their armour. Leg-spinner Amit Mishra holds an impeccable record against the CSK batsmen and DC will look to make the most of it. Mishra has dismissed Watson five times in the IPL and the Australian has scored just 72 runs off 62 deliveries he has faced from the spinner. Suresh Raina and Ravindra Jadeja have perished four times to Mishra while Rayudu has been dismissed by the leggie three times in the past.
18:33 hrs IST
DC wary of Raina threat
One player, who hasn't had the best season but is a major threat in CSK's vice-captain and number Suresh Raina. The southpaw showcased just why is he such a game changer when the two teams clashed in Chennai. Suresh Raina has a stellar record when it comes to IPL playoffs and he could well be the biggest threat for Shreyas Iyer and his team. Raina leads the list with Dhoni in hot pursuit. The southpaw has scored 695 runs in 22 matches at a strike-rate of 160.51, which is far more than the others.
18:27 hrs IST
Pressure on CSK
CSK skipper MS Dhoni admitted that they could have read the conditions better against Mumbai at home and asked his batsmen to be careful with shot selection going forward. "These are the best batsmen we have got, it looks like we are are batting well, but at times, they pull off shots that shouldn't be played. These are the players who we have banked on, they have the experience and they should know to assess the conditions better," said Dhoni after the six-wicket loss to Mumbai.
18:21 hrs IST
DC's bowling contingent
Their fast bowlers, Trent Boult and Ishant Sharma, did a decent job in the absence of Kagiso Rabada and were well supported by Keemo Paul, who picked up three wickets. Veteran spinner Amit Mishra was frugal again and also picked up an important wicket.
18:15 hrs IST
Delhi's in-form young guns
Rishabh Pant's 21-ball 49 in a high-pressure game reignited the debate on social media over his non-selection in India's World Cup squad with former England captain Michael Vaughan saying it was "bonkers" to not have the young-wicketkeeper batsman in the mega event. Another young gun Prithvi Shaw too played an important innings of 56 and was happy to be back among the runs after low-scores in the previous three innings.
18:09 hrs IST
Both teams' last outings
Chennai in Qualifier 1: Chennai Super Kings lost to Mumbai Indians in a one-sided affair by 6 wickets.
Delhi in Eliminator: Delhi Capitals beat Sunrisers Hyderabad by 2 wickets in a thrilling contest by 2 wickets.
18:02 hrs IST
Previous meeting
It was CSK who denied Delhi a top-two spot in the league standings with a crushing 80-run win at Chepauk and the Mahendra Singh Dhoni-led side stands in their way again, only stakes are much higher in the Qualifier 2.
17:55 hrs IST
Hello and welcome
A very warm welcome to the live blog of the Indian Premier League Qualifier 2 contest between Chennai Super Kings and Delhi Capitals in Vizag. There is just one permutation and combination today - the winner of this match will play Mumbai Indians in the championship clash on Sunday. So its a do-or-die clash for both the teams.
Close Story