England vs Australia live score Ashes 2019, 1st Test Day 1 in Birmingham: Steve Smith rescues Aussies, hosts end day without losing a wicket
Aug 01, 2019 11:35 PM IST
England vs Australia 1st Test live updates: This has been a good fighting effort from Steve Smith and Peter Siddle. They have forged a 52-run stand for the 9th wicket and have given rise to the hopes of somehow dragging Australia past the 200-run mark, which can be a handy total considering the movement on offer for fast bowlersFollow England vs Australia live updates below -
11:25 hrs IST
England survive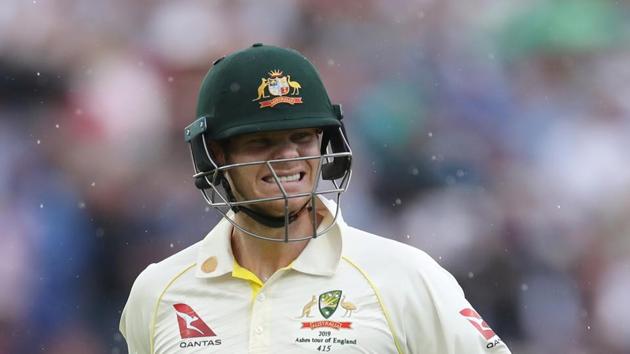 England played 2 overs to end the day and ended it without losing any wickets. Jason Roy and Rory Burns will continue their innings tomorrow. But the day belonged to Steven Smith.
22:05 hrs IST
Australia innings ends
Fabulous innings from Steve Smith ends at the score of 144 runs. Australia have a stiff first innings score of 284, thanks to Smith. Stuart Broad also completed his 5-wicket haul after castling Smith. England will have 10 minutes to play on Day 1.
21:31 hrs IST
Australia hit 250
Once it looked like Australia will be dismissed for a dismal score at Edgbaston. But Steve Smith, Peter Siddle and Nathan Lyon have rescued the Kangaroos. They have scored 250 runs after being 112/8 at one stage.
22:11 hrs IST
Steve Smith completes century
In his first match back in Test cricket, Steve Smith is back doing what he does best, scoring hundreds. He has completed his 24th century in Tests in testing circumstances as wickets were falling left right and center for Australia.
21:56 hrs IST
Peter Siddle departs
A partnership of 88 has been broken by Moeen Ali. Siddle falls victim to Moeen's spin and heads back to the pavillion on the score of 44.
21:15 hrs IST
Smith, Siddle fight
This has been a good fighting effort from Steve Smith and Peter Siddle. They have forged a 52-run stand for the 9th wicket and have given rise to the hopes of somehow dragging Australia past the 200-run mark, which can be a handy total considering the movement on offer for fast bowlers
20:50 hrs IST
Play resumes
Like we mentioned, the weather has cleared and play resumes. But the weather forecasts say there can be more stoppages throughout this session.
20:30 hrs IST
Rain delays play
Right, things are looking a bit gloomy here at Edgbaston. Looks there will be a delay but shouldn't be long one.
20:10 hrs IST
Tea at Day 1
That's Tea at Day 1 and Australia are at 154 for 8. If it wasn't for Steve Smith's fifty (57) they could well have been bowled out under 120. Such has been the dominance from the English seamers. They picked up 5 wickets in this session and 4 of those was shared between Broad and Woakes. in fact the duo have shared 7 wickets among them with Broad picking up four.
19:51 hrs IST
Fifty for Smith
Steve Smith gets to his 25th Test fifty. This is his 7th vs England and 5th consecutive fifty+ score in an innings vs England in Tests. He has been the lone warrior for Australia as he pretty often is.
19:45 hrs IST
Siddle survives
HUGE inside edge and Peter Siddle survives, another decision overturned. Oh it has been that kind of day. But how did he miss that inside edge? Siddle was very confident and immediately went for a review, which was the right decision.
19:30 hrs IST
Stokes gets into the act
OUT! LBW! Cummins misreads this inswinging ball and departs looking a tad bemused. Good length ball outside off, it comes in after pitching. Cummins has no clue about it and ends up shouldering his arm to it. The ball hits his front pad. The English players are dead sure that they have their man and the umpire agrees. Cummins has a chat with Smith and they opt against taking the review. Hawk Eye later on rolls in and confirms that Cummins would have wasted the review had he taken it as the ball was crashing the off pole. 122/8
19:16 hrs IST
2 wickets in 3 balls for Broad
First Tim Paine then a ball later, James Pattinson. Stuart Broad has just ripped apart Australia's lower middle order. Paine pulled it straight to deep square-leg fielder and Pattinson had no answer to a Broad in-dipper. The replays, however, conveyed that the ball would have gone on to miss the leg stump and Australia had a review. It really hasn't been a great day for the umpires and also the players when it comes to decision making but that doesn't take anything away from Broad, who has now got 4 and Australia are tottering at 112/7
18:50 hrs IST
Woakes on fire
OUT! LBW! It's raining DRS and majority of them have overturned the original decision, says a lot about the umpiring errors today. Matthew Wade has to bear the brunt this time around, another absolute peach of a delivery from Waokes, pitched on off and came back in, Wade made the error of falling over and was unable to put bat to ball. Australia 5 down for 105 .
Australia captain Tim Paine comes in to the crease
18:38 hrs IST
DRS saves Smith
Steve Smith lives to fight another day but only just. A definite error in judgement from the former Australia captain, it did not pitch very far from the off stump, Smith decides to shoulder his arms and it thuds onto his back leg, the umpire had his finger up but Smith wasn't convinced, he went for the review and decision had to be overturned. Australia 103/4
18:38 hrs IST
Woakes gives the breakthrough
OUT! Australia lose Travis Head and one of their two reviews. It looked out and the replays confirmed. A very good delivery from Chris Woakes, pitches around off and shaped back just enough to miss Head's bat and thud onto his pads. Just as Australia were clawing their way back in the game, Woakes gives them a body blow. Australia 99/4
18:25 hrs IST
Fifty partnership
Fifty partnership between Steve Smith and Travis Head: 6th fifty-run partnership for the 4th wicket between an Australian pair at Edgbaston in Tests. Australia: 88/3
17:32 hrs IST
Lunch
Steve Smith and Travish Head have done a good recovery job but the session belongs to England and Stuart Broad, who removed the Australian openers early to give a dream start to England after Tim Paine opted to bat first. Chris Woakes then removed Usman Khawaja to leave Australia reeling at 35 for 3 but since then Head (26) and Smith (23) have been good to take Australia to lunch at 83 for 3.
17:05 hrs IST
Expensive over from Ben Stokes
2 fours and a three to end the over, all coming from Travis Head's bat. He was on zero off 15 balls and now he is 16 off 23 balls. 11 runs coming Ben Stokes' 4th over, is the sign of things going Australia's way? They are at 57/3 after 20 overs.
17:00 hrs IST
Head off the mark, finally
Travis Head gets off the mark with a couple through the off side, it took him 16 deliveries to get going, that should give some confidence. Runs have been hard to come by today for Australia.
16:43 hrs IST
Woakes removes Khawaja
OUT! Usman Khawaja the man goes. Bairstow did not seem too confident but Woakes did well to convince his captain to go for the review. Once against a fuller-length delivery does the trick for England. Khawaja prods forward and leaves his bat a tad away from the body and that is enough to find the outside edge. Bairstow does the rest behind the stumps. Australia 35/3
Travis Head is the new man in
16:25 hrs IST
Smith off the mark with a four
FOUR! Steve Smith Shuffles across the off-stump and puts that one away through the mid-wicket region off Chris Woakes. There was a fielder near deep square leg, but he had no chance of cutting that off. Smith gets off the mark with a boundary. Australia: 23/2
16:15 hrs IST
Bancroft Broad's bunny?
Broad dismisses Bancroft for the 3rd time in 6 Tests.
He joins Vernon Philander to dismiss him the joint-most times in Tests
This is the 20th catch by Root off Stuart Broad's bowling in Tests.
16:10 hrs IST
Edged and gone
OUT! Edge and taken! Loose from Bancroft, he could have left that on line but ends up pushing at it and the little movement off the deck brings his downfall. Stuart Broad has removed both the Australian openers early. Australia 17/2 as Steve Smith comes out to bat
16:06 hrs IST
Bancroft hits his 2nd boundary
FOUR! Shot from Bancroft, that was straight out of the coaching manual. Full and straight from Broad, there was no swing this time and even if there was, Bancroft had it covered. He hit it straight back past the bowler with the full face of his bat to collect the first boundary of the match.
15:50 hrs IST
Broad gets Warner
OUT! Full and straight from Broad, Warner misses and he was right in front of the stumps, or was he? umpire Aleem Dar had no hesitation in giving him out but replays showed that ball would have missed the leg stump. But it doesn't matter now, Warner did not think about going for a review. Two blunders from the umpires, two blunders from both sides by not going for the review. Does that even it up? Only time will tell.
15:37 hrs IST
Warner gets a life
Stuart Broad could have had David Warner for a duck on his first delivery. All England had to do was go for the review but they didn't. To be honest, Broad himself didn't look that confident. A fuller delivery down the leg side, Warner missed the flick shot, there was a huge appeal but umpire was unmoved. Replays confirmed that Warner had a tickle.
15:34 hrs IST
The action begins, Anderson with the first over
Anderson starts with a maiden. Early indications that the pitch doesn't have that much bounce in it but trust Anderson to exploit some movement from the deck.
15:25 hrs IST
Some important stats
2001: The last time Australian won a Test match at Edgbaston. Since then, they have played thrice at this venue, lost 2 and drawn 1.
6/14: England have won 6 out of 14 Tests at Edgbaston against Australia, lost 3 and drawn 5.
28/51: England have won 28 out of 51 Tests at Edgbaston and lost 8.
108/346: England have won 108 Tests against Australia from 346 encounters and lost 144.
134/330: Australia won 134 out of 330 Tests against England in The Ashes and lost 106.
0/6: England have been winless in last 6 Tests against Australia (5 in 2018-19 and 1 in 2015).
15:16 hrs IST
What the captains said
Tim Paine, Australia captain: The wicket looks nice, hard and dry; hopefully we'll post a good score in the first innings. It's exciting for me personally. Really excited for the first hour and session of play. Siddle is playing, we have six changes from the last game, so can't remember all of them. We have spoken about getting the right combination to get all 20 wickets in the match. The boys are happy to have them back in our set up.
Joe Root, England captain: Hopefully we can exploit the overcast conditions. We always love playing here as we get fantastic support. The atmosphere is always electric. Jofra is a fine talent. We also have the luxury of having two guys who played well in the last one week. They are world class players and a big part of this Test team
15:05 hrs IST
Teams
England (Playing XI): Rory Burns, Jason Roy, Joe Root(c), Joe Denly, Jos Buttler, Ben Stokes, Jonny Bairstow(w), Moeen Ali, Chris Woakes, Stuart Broad, James Anderson
Australia (Playing XI): David Warner, Cameron Bancroft, Usman Khawaja, Steven Smith, Travis Head, Matthew Wade, Tim Paine(w/c), James Pattinson, Pat Cummins, Peter Siddle, Nathan Lyon
15:00 hrs IST
The toss
Australia captain Tim Paine has won the toss and elected to bat first against England.
13:34 hrs IST
What will the captain do?
Win the toss and ______ #Ashes pic.twitter.com/KHzu2cQmkV

— England's Barmy Army (@TheBarmyArmy) August 1, 2019
13:29 hrs IST
Root to bat at number 3
England skipper Joe Root is excited to bat at number three in the Ashes as he is hoping that coming to bat early will allow him to make some 'big scores'. "I'll bat at number three which is quite exciting. I think it's a positive move for me, I quite like the idea of getting out there pretty early and hopefully making some big scores. The opportunity to make really big scores comes from the top three, and there's an opportunity for me to potentially do that this series," Cricket.com.au quoted Root as saying.
12:54 hrs IST
'It is weird Aussies trying to be nice to you'
Ahead of the blockbuster first Test, vice-captain Ben Stokes stated he is not able to get his head around Australian cricket team being nice to others. "It is weird Aussies trying to be nice to you. Once you get out in the middle and cross the white line, the real competitive side of both teams will come out and Ashes are the biggest Test series played in the world. There is always something that happens between teams in Ashes series and I don't think this will be any different. Both teams are desperate to win, both sets of players are desperate to perform because Ashes series are where you get scrutinised and criticised more, or praised if you do well," Stokes was quoted as saying by Wisden.
12:40 hrs IST
Handshake row
The oldest rivalry in Test cricket is never shy of controversies and one such row has erupted ahead of the first Test between England and Australia at Edgbaston in Birmingham on Thursday. According to reports, England captain Joe Root has been left unimpressed after it was revealed the two sets of players will shake hands to mark the beginning of the series. Click here to read full story.
12:23 hrs IST
Jersey numbers!
England and Australia will be the first two cricketing nations to wear names and numbers on their jerseys for the first time in the 142 year history of Test cricket. England and Wales Cricket Board (ECB) revealed the numbers that the players will wear in this clash. Moeen Ali- 18, James Anderson- 9, Jofra Archer- 22, Jonny Bairstow- 51, Stuart Broad- 8, Rory Burns- 27, Jos Buttler- 63, Sam Curran- 58, Joe Denly- 24, Joe Root- 66, Jason Roy- 20, Ben Stokes- 55, Olly Stone- 26, Chris Woakes- 19.
12:10 hrs IST
England's team for first Test
England pace bowler Jofra Archer has been omitted from the side for the first Ashes test against Australia starting at Edgbaston on Thursday after failing to recover from injury.
Playing XI: Rory Burns, Jason Roy, Joe Root (c), Joe Denly, Jos Buttler, Ben Stokes, Jonny Bairstow, Moeen Ali, Chris Woakes, Stuart Broad, James Anderson.
11:57 hrs IST
Fortress Edgbaston
England return to Edgbaston looking to round off an already memorable season by completing a World Cup and Ashes double.Australia have not won at Edgbaston in any format since 2001, a run that includes their recent World Cup semi-final loss to England. England, by contrast, have won their last 11 internationals at the raucous Birmingham ground.
11:43 hrs IST
Why series called the Ashes?
The term Ashes gained currency after Australia's first Test match win in England. The team from down under had defeated England for the first time in England at the Oval in London on August 21, 1882. Then, England was at the peak of cricket and this loss was not taken very well by people in the country. After this loss in 1882, England's 'Sunday Times' carried a mock obituary of cricket in the country, stating that the body of England cricket will be cremated and the ashes would be taken to Australia. Two months later, the England team led by Hon Ivo Bligh, went to Australia to play the series and the skipper promised to make a comeback with the Ashes. The Australian counterpart at that time, WL Murdoch, had said he would do anything to keep the Ashes. Since then, the series between these two sides gained prominence and it became one of the oldest cricketing rivalries.
11:30 hrs IST
Hello and welcome
A very warm welcome to the live blog of the first Ashes Test at Edgbaston in Birmingham. England and Australia will reignite their rivalry in the oldest Test series in the world. Aussies are looking to win their first Ashes in England in 19 years but things aren't going to be easy for them against the recently-crowned World Champions.